Burgers Meet Beer at These Five Boston Restaurants
BY: Fiona Coxe |
Jun 25, 2014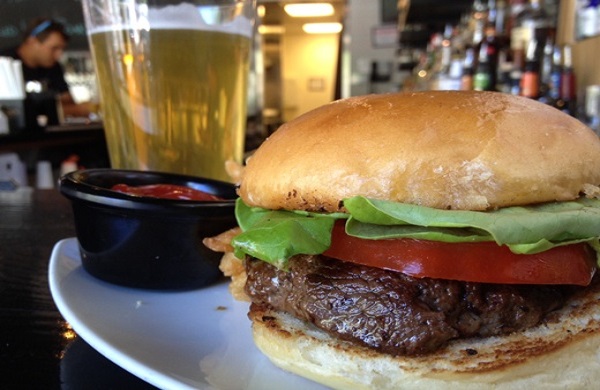 Peanut butter and jelly, steak and potatoes, burgers and beer—the world's most perfect pairings. What is it about a thick, juicy burger with all the fixin's that screams to be washed down with an ice-cold brewski? The world may never know, but here's a few
Boston restaurants
that get this combo oh-so-right.
Classic:
The Gallows
| 1395 Washington St. This South End restaurant rotates its burger menu often to include the freshest ingredients and the most unusual combinations. The burgers here are simple flat patties, so don't go customizing the temperature—but The Gallows proves that simple really is best. A menu staple is the Our Way, a traditional backyard combination of american cheese, iceberg lettuce, pickles, and grilled onions that evokes memories of summer barbecues where the beer is flowing and the friends are plentiful. Speaking of beer, The Gallows presents a short yet comprehensive list that shows off some of the best craft brewers in Massachusetts, New England, and beyond.
Novel-Length Beer List:
The Tip Tap Room
| 138 Cambridge St. This Beacon Hill bar takes the "tap" in its name seriously—it has 36 of them. The beer list also features 45 different beers in bottles and 7 in cans and is one of the most diverse collections in the city. Choices range from the seasonal and highly sought-after Stone Brewing Co. ales to small brewers that haven't yet made a name for themselves. And The Tip Tap Room's spin on dining, which incorporates
exotic meats
and hard-to-find ingredients, ensures an unforgettable burger. Besides the standard beef, turkey, and lamb burgers, you'll often find a fun twist on their board such as caribou or alligator.
Vegetarian's Choice:
The Publick House
| 648 Beacon St., Brookline The Publick House in Washington Square is one of my all-time favorite spots to grab a brew. It is regarded as one of the best local beer bars, with an incredible list of local and European labels. The burgers are spot-on, too, but reigning supreme here is the veggie burger. The Publick House isn't trying to mimic a "regular" burger with its veggie patty, which is chock-full of carrots, green peas, and zucchini. Instead, the eatery makes a sandwich that stands deliciously on its own—and will make any meat lover swoon.
Beer Garden of Eden:
Charlie's Kitchen
| 10 Eliot St., Cambridge Year-round. Outdoor. Beer garden. Let that sink in for a moment. In a city where outdoor seating is limited and unheard of in the winter months, Charlie's Kitchen in Harvard Square serves its rotating list of beers al fresco in every season. There's also a wallet-friendly menu of classic burger combinations, with patties that can be doubled or even tripled. So get in there, roll your sleeves up, and dig in.
Student Standby:
Sunset Grill & Tap
| 130 Brighton Ave. A staple for the many, many college students of the city, Allston's Sunset Grill & Tap is far from gourmet. In fact, it runs much closer to a greasy spoon, but the menu's beer-steamed burger offers a unique experience time and again. However, let's not forget about the restaurant's more than 100 brews. There's always a great group of samplers that let diners try different styles without committing to a full pour.
Photo by Fiona Coxe
BY: Fiona Coxe
Fiona is a free-lance food writer living in the city of Boston.  Born with an extreme love of food, she put her passion to paper in 2008 with the creation of her own blog, A Boston Food Diary.  It began as a way to keep track of her own kitchen adventures, and record her dining experiences in and around Boston.  Since its inception, A Boston Food Diary, showcasing its extreme love of both food and the city of Boston, has become a well-known resource for both the people of Boston and visitors to the city.  Fiona has also written for various publications around the city, as well as spot pieces for national publications.