Top Product Reviews
A friend said "She will be watching you when you're in the shower. Are you going to be comfortable with that?"After some serioius thought, I concluded that "Yes, yes indeed, I will be comfortable with a shower spectator, particularly if it is the lovely, yet somewhat disturbingly sardonic, Mona Lisa."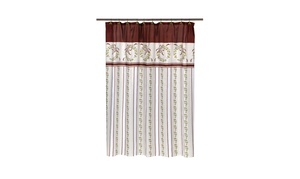 I liked the shower curtain, but the shower rings were plain silver and not the holly shaped ones as shown on groupon.
Not just quirky but well made. Monalisa watches everyone shower in our house.