Top Product Reviews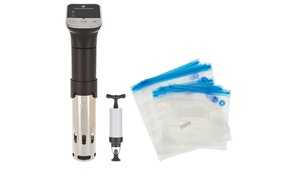 Always wanted to try this...so I did! Product was new, and looks solid construction. We've tried it 4 times....2 for stuffed breasts, and 2 for steak. It holds the temp as it's supposed to and works great! It isn't jam packed with features (like apps, or bluetooth) but it does what it's supposed to - great way to intro to Sous Vide! Note- there is a learning curve, but my wife's came out better than mine and she's now a fan, too!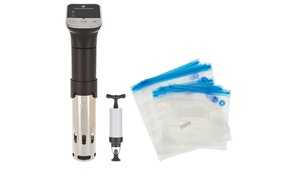 I've returned other precision cookers because they had "curling-iron" style clamps that didn't work for me, and made horrendous gurgling noises. This was very quiet and did the job nicely, plus it was less expensive and came with the bags and pump! The only thing I don't like about this (and most others) is that it turns off completely when done. I'd prefer it switch to 130ºF and keep holding, as most foods handle that perfectly and going below 130ºF means bacteria can grow again. Again, though, other brands also do this.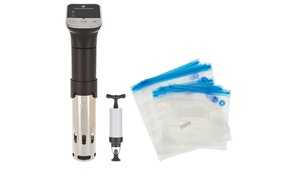 Works great! My beef tenderloin came out...better than I perceived as perfect.