Bronzeville Dining Destinations
BY: Kelly Taylor |
Jun 10, 2016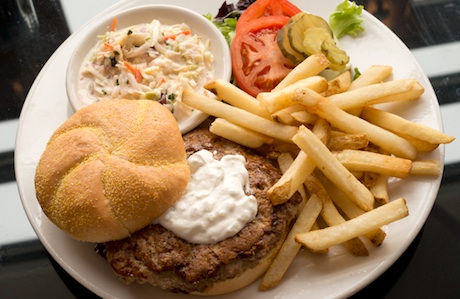 To many Chicagoans, the neighborhoods south of Roosevelt Road seem to be a culinary wasteland. To Jimalita Tillman, Chicago native and executive director of the Harold Washington Cultural Center and Performing Arts Theatre (4701 S. Dr. Martin Luther King Jr. Dr.), fine-dining opportunities definitely exist on the South Side—if you give them a chance.
Because many of these restaurants depend on word of mouth, Tillman said, the advertising budgets of their more northern competitors often trump their oral marketing, and so she often spends "all day" giving South Side restaurant recommendations to area visitors and theater-goers.
"There are many great places [to eat] throughout these areas," she said. "It really depends on what you're in the mood for."
And if you're in the mood for a little musical and cultural Chicago history to pair with your meal, you don't have to travel far from the landmark arts center. The Harold Washington Cultural Center, in the former location of the historical Regal Theater where the likes of Ella Fitzgerald once performed, is right in the heart of the Black Metropolis—a region marked by the culture and Southern-inspired music scene that developed during the Great Migration. Today, Bronzeville is still flavored with leftovers from its swinging past.
To savor alongside your meal, we paired each of Tillman's restaurant recommendations with a few musical, historical, and cultural tidbits.

4655 S. Martin Luther King Jr. Dr., Chicago, IL 60653
It's the quick and personable service that makes this gourmet hot-dog eatery a standout, Tillman said. Of course, Chef Cliff Rome serves the usual Chicago-style hot dog, but it's the varied wiener and burger options he creates that color H-Dogs' menu with the fine-dining flair he perfected while studying in Paris. The Healthy Hound—a grilled veggie dog with sprouts, roasted peppers, red onions, and cucumbers—sits alongside salmon burgers, turducken sausages, and portobello-mushroom sandwiches without the least bit of tattletaling or fighting over who had the mustard first. Sweet-potato or truffle fries complete the gourmet-on-the-go experience.
Bite of History: The gourmet hot-dog diner sits in a historical building that was once known as 47th Street Marketplace. Before a 2010 fire destroyed the building, it was considered a symbol of the revitalization of Bronzeville and housed Tillman's Spoken Word Cafe—one of the original hosts of HBO's Def Poetry series hosted by hip-hop artist and actor Mos Def.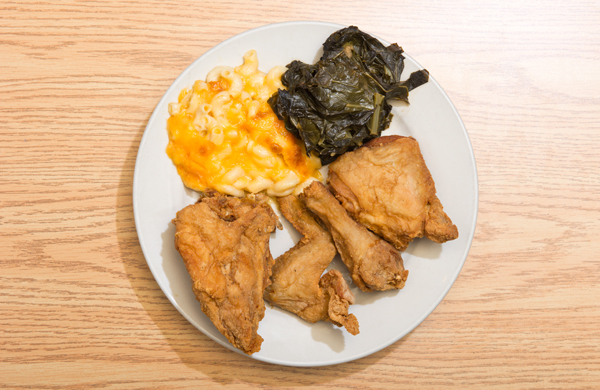 3901 S. Michigan Ave., Chicago, IL 60653
"I'm a breakfast head," said Tillman—as are many in the crowd of diners waiting to get inside for brunch on any given Sunday. The kitchen cooks up a mix of Southern and soul food—yes, there's a difference—but Pearl's Place sprinkles it with the right amount of creole flavor. After sampling Pearl's juicy yet crispy fried chicken, sautéed salmon croquettes, or all-day breakfasts of vegetable omelets or homestyle pancakes, it seems only right to finish with a bite or two of peach cobbler or sweet-potato pie.
Bite of History: The interior decor, with album jackets and vinyl records lining the walls, features a photo story of the neighborhood's jazz and blues history with jazz legends Louis Armstrong, Duke Ellington, and Lena Horne—all of whom graced the stage at the Regal Theater during Bronzeville's musical heyday.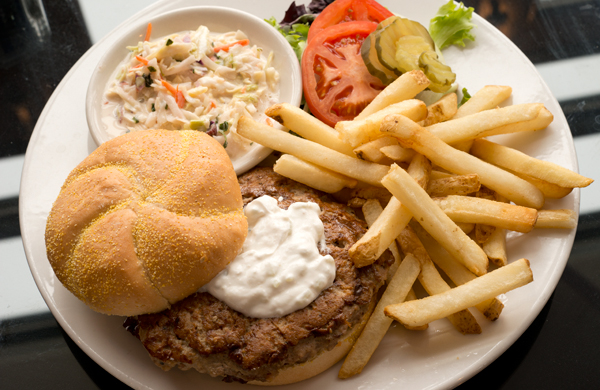 1001 E. 43rd St., Chicago, IL, 60653
The bistro's entrees—including vegetable confetti ravioli, smoked cranberry salmon, and the Great Duck burger—offer an upscale taste-bud experience at "South Side prices," Tillman said. From the food to the decor, presentation is an art in this sleek and classy spot featuring creole-inspired American food with a Brazilian flair. In the exposed-brick, art-filled wine bar, sommeliers pour from an extensive list of wines. Separate from the dining room, the intimate setting of the bar creates an ideal spot for the happy-hour crowd.
Bite of Culture: On Sundays at 9 p.m., the bistro hosts a live jazz jam session. Or make an appointment and walk over to Gallery Guichard—housed in a turn-of-the-20th-century Italiante row house—to peruse its African-diaspora art and blown glass, sculptures, and photography by local as well as international artists.
Photography by Andrew Nawrocki.