Top Product Reviews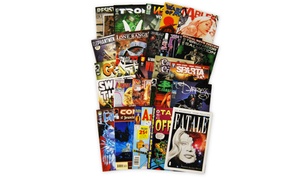 First time buying the Independent Bundle, I've purchased the Marvel/DC Bundle multiple times. Received a very random lot with this order (which is good!). They are all in good condition and a lot were in sleeves with boards. Would recommend for Mature readers 15+ as some were geared towards older readers.
Very informative food magazine geared to bring the television shows into your home at a different type of level. The print is large and clear and the pictures are gorgeous enough to want to eat!
There is a one-time $.99 "one-time, non-refundable fulfillment fee" when you redeem your voucher code "per the terms of the offer's fine print on Groupon's website", which was kind of annoying. I don't like giving everyone my credit card info and had to do it twice for this order. Not a yoga journal problem -- a Groupon problem.