Get Your Goat: A Taste of Traditional Goat Stew at Birrieria Reyes de Ocotlan
BY: Halley Lawrence |
Mar 17, 2016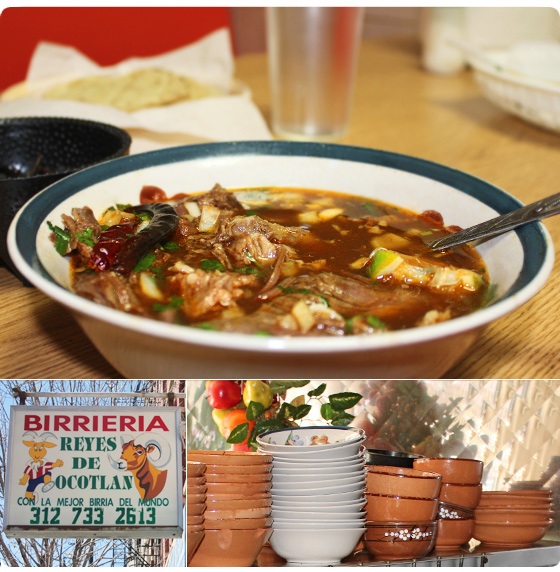 Clockwise from top: Birria in action—rich, briny consommé and tender goat meat, stewed for hours with bay leaves, cinnamon, and other spices. // Ceramic bowls absorb the birria's heat, keeping the broth warm throughout meals. // When Rick Bayless recommended Birrieria Reyes de Ocotlan to "Esquire" magazine, he described the eatery's birria as "full of flavor, incredibly homey and satisfying."
In Ocotlán in Jalisco, Mexico, the temperature rarely dips below 40 degrees. That's mild by Chicago standards; however, when the Reyes family immigrated 2,000 miles from Ocotlán to Chicago, they brought with them a recipe that would prove thoroughly compatible with the colder weather. That recipe is birria—a savory stew made by simmering goat meat for hours with herbs and spices. On a cold day in mid-March, I made a trek across town to the family's Pilsen restaurant, Birrieria Reyes de Ocotlan, to taste it myself.
As soon as I entered the eatery, I smelled the warm, rich aroma of simmering goat meat. Goats were also present in the decor: miniature replicas decorated shelves and cupboards, and a mounted goat head kept watch over the booths, a toothpick dangling humorously from its lips.
After I ordered birria at the counter, a server presented me with three dishes. The smallest held pickled onions and lime wedges, which are traditional birria condiments, and an oblong basket cradled warm, fresh tortillas. The largest bowl brimmed with rich, briny consommé, chopped onions and cilantro, and hunks of tender goat meat.
The first spoonful of broth tasted bright and smoky with hints of ancho peppers and cinnamon. I separated a piece of goat meat with light pressure from my spoon. Leaner than beef, the meat still had pieces of bone inside, which infused the meat with the flavor of their marrow. The crisp onions and fragrant cilantro stood out against the birria's savory elements to create a harmony of flavors that was especially comforting on a cold day.