Swirlgear Creator Lacie Whyte Picks Her Summertime Running Essentials
BY: Michelle Algeo |
May 28, 2013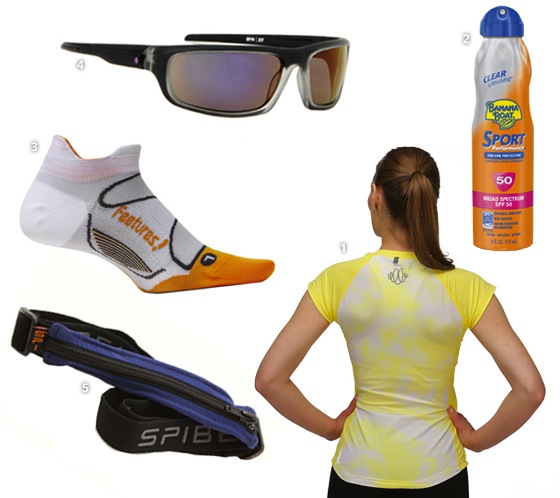 "I used to absolutely hate to run." It's the last thing you'd expect out of the mouth of Lacie Whyte, founder of
Swirlgear
, a line of fitness apparel devoted entirely to female runners. "I played basketball in high school," she explains, "and we used to always have [a yearly] timed mile. … I used to [dread it] for the two weeks leading up to it." But when a knee injury landed Lacie on the sidelines in her senior year, she turned to running as a way to ease back into athletics after recovery. To her surprise, it quickly became a cherished pastime. "[Running] just really, really clears your head." As she fell in love with the sport, she found it sorely lacking in one aspect: appealing women's apparel. "I said, 'I know I'm looking for something different, so I know I'm not the only one in this.'" Her solution was to found Swirlgear in 2007. Drawing on the input of female runners she meets at race expos around the country, Lacie designs a line of flattering clothing aimed at versatility: "Women want to be comfortable in their apparel, and they want to be able to go run an errand in it." Her T-shirts, running jackets, and shorts feature style-conscious touches including tie-dye prints and appealing pinks and yellows, all made with fabrics that wick away moisture. That attention to comfort is even more important when planning a run in the oppressive Chicago summer heat. Here, Lacie lists her must-have gear and gadgets for warm-weather jogs.
1. Swirlgear Capped-Sleeve Top in Sunny Yellow
"I like it because it's a lighter color, so you're going to stay cool," Lacie says. The fabric itself is a lightweight, moisture-wicking blend ideal for fending off heat, and the cap sleeves add some extra sun protection on your back.
2. Banana Boat Sport Performance UltraMist Sunscreen (SPF 50)
"It stays, it doesn't feel greasy on my skin, and for … those hard-to-reach areas, [this is] the spray I would recommend—just don't forget your back!" For her face, Lacie relies on the waterproof Banana Boat Sport Performance sunscreen stick.
3. Feetures! Elite Ultra-Light No-Show Tab Socks
"Especially in the summer, when your feet are sweating … get something that's either
SmartWool
or a moisture-wicking sock that is lightweight [and won't] give you blisters." Lacie slips on Feetures! Elite Ultra-Light No-Show tab socks before she hits the path to keep her feet cool and comfortable.
4. SPY OTF Sunglasses
Lacie's praise for this pair of sports shades is simple: "They don't fog. They are really comfortable. They offer good protection."
5. SPIbelt
"It's not a fanny pack—I would never wear a fanny pack," Lacie says. Rather, the SPIbelt is a thin, stretchy loop that wraps around the hips, offering on-the-go storage for keys or an MP3 player. "It's super small, so you don't even feel like you're wearing anything."
6. FuelBelt 10-Ounce Sprint Water Bottle
Apart from the SPIbelt, Lacie prefers to run without anything around her waist. The FuelBelt SPRINT provides essential hydration in a handheld package. "There's a little pocket, so if you do a
Sport Bean
or a
GU
… you can just take them out as you need them."