Try the Trend: 4 Popular Spots for Ramen
BY: Melody Fury |
Feb 10, 2014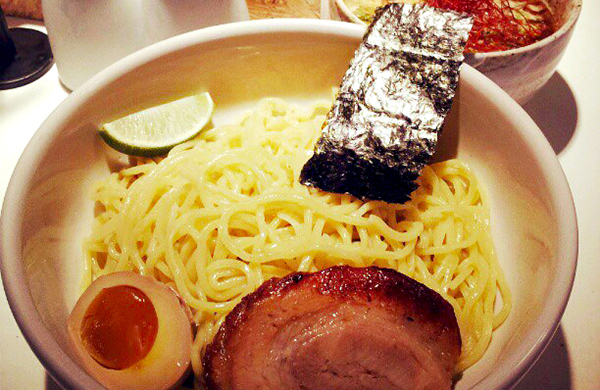 Not long ago, Austin was sadly deprived of ramen.  Fortunately, several pioneers have introduced this Japanese comfort food to the city in recent years.  Austin has finally jumped onto the ramen wagon and as the demand grows, the variety will increase too.  Below are a couple spots that are dishing up their unique version of the sought-after noodle dish.
Ramen Tatsu-ya
Located in North Austin, the wildly popular Ramen Tatsu-ya opens for both lunch and dinner. The chefs at this hip joint take their craft seriously.  During lunch, they serve a Tokyo-style chicken based shoyu (soy sauce) ramen with traditional toppings such as melt-in-your-mouth chashu (pork belly), perfectly marinated ajitama (soft boiled egg), nori, menma (bamboo shoots), and white and green onions. For dinner, Ramen Tastu-ya widens their selection.  Creamy, porky tonkotsu broth is complimented with sho-yu, miso, or spicy miso. A veggie ramen made with vegan broth is available on Sunday nights.  For me, their tsukemen is the menu's highlight. Guests are presented with al dente noodles alongside a bowl of savory and rich dipping broth. Tatsu-ya spells out 7 ramen rules to promote optimal enjoyment.  Sorry, no takeaway allowed!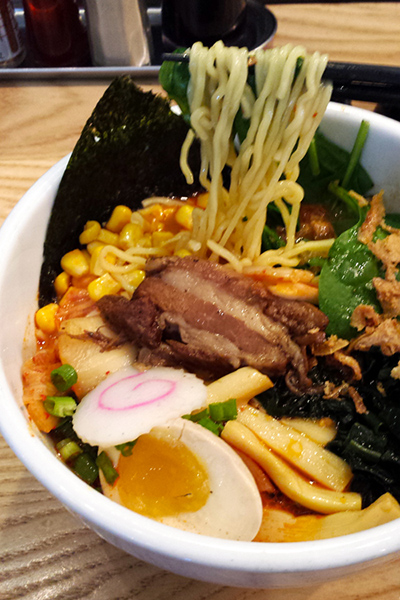 Komé
A few years after starting out as a food truck, the sushi aficionado opened their first brick and mortar location.  The cozy eatery with a funky vibe offers a variety of lunch options.  It transitions to an izakaya-inspired menu for dinner. They recently expanded their lunch-only ramen offering to 5 distinct varieties. Their slow-simmered tonkotsu broth can be served as-is or kicked up with spice.  They also offer a miso ramen with a kimchi option.  I like that their bowls already come loaded with a range of toppings, from pork belly, to fish cake, to corn. For hot Texas days, they serve up 2 cold, dipping-style noodles: hiyashi chuka (ramen with salmon sashimi) and tenzaru (buckwheat soba with shrimp tempura).  A side of pork gyozas always makes a nice companion.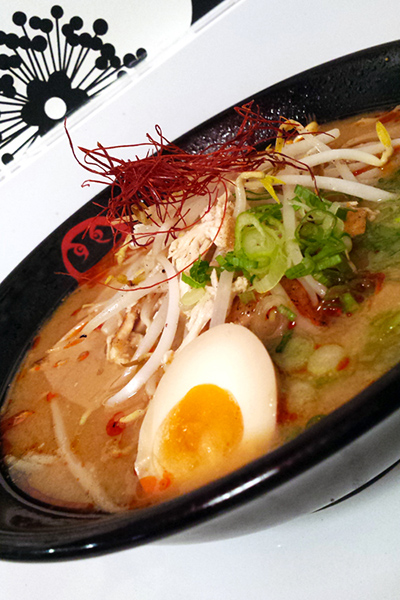 Daruma
Daruma is a "spin off" from Komé's ramen menu. This boldly decorated Downtown nook is a convenient location for a quick bite. They specialize in simmering a clean, yet complex whole chicken broth.  Keeping their menu tight, they spin out three variations: shio (seafood salt base), shoyo (seafood dashi stock and anchovy oil) and miso (miso-tare, ra-yu oil). They designed their eggless, tapioca-based noodles with a springy texture in mind.  The bowls are topped with a range of comforting additions, from chashu, chicken breast, seaweed, to bean sprouts.  Their vegan ramen is dressed with a vegetable and fruit broth and topped with fresh vegetables, avocado, lime, and ginger oil. My favorite part of dining at Daruma is wrapping up my meal with unusual soft-serves like shiso-umé, yuzu, and wasabi flavors.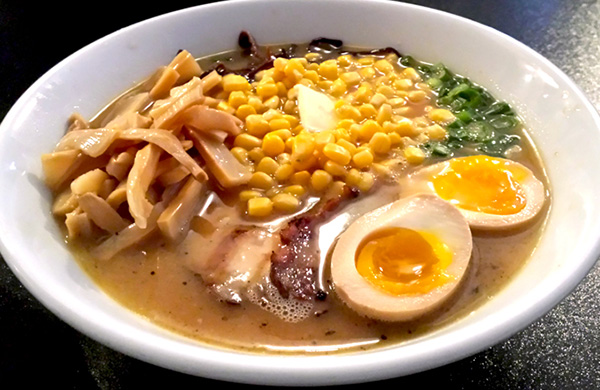 Michi Ramen
Michi Ramen also began as a food truck. One year ago, they launched their spacious brick and mortar location on North Lamar. What makes Michi unique is that diners can choose the thickness of their pork-based broth.  The viscosity ranges from light, to regular, to the substantially heavier "stout". Like their counterparts, Michi also puts their own spin on each bowl.  Besides their traditional Sapporo-style ramen (topped with chashu, bean sprouts, corn, wood ear mushrooms and a slab of cold butter), they also dish up some inventive combos. The Texas ramen with a tomato tonkotsu broth is styled with BBQ pork ribs. The lemongrass tonkotsu broth acts as the vehicle for the Thai chili-spiked Jungle ramen.
Explore even more dining trends in Austin with our restaurant deals.