GROUPON GUIDE TO WASHINGTON-DC
A Chemical Peel Will Not Turn You Into a Supervillain
BY: Favin the Maven |
Apr 21, 2014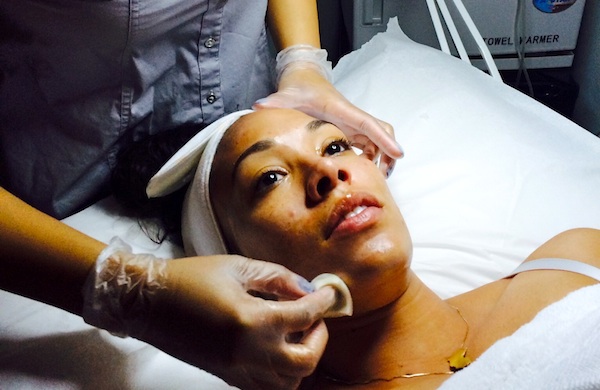 I love playing around with skincare treatments at home, mixing masks and body scrubs from whatever I can find in my kitchen. But I knew attempting a chemical peel was over my head, so I enlisted the help of Arlana Andrews, the founder and lead aesthetician at Allure Beauty Lounge in Chicago.
As it turns out, the treatment was nothing like I expected. Here are five things I learned during my visit:
1. It's not just a peel, it's a full facial.
Just the phrase "chemical peel" sounds a little scary. In fact, my colleagues couldn't believe I was going to come back to work afterward—they were imagining some mad scientist messing with my face. But at Allure, there was no Dr. X waiting to torture me under fluorescent lights.
Instead, I was escorted into a relaxing, dimly lit area enhanced by soft curtains and spa music. After I got comfortable on the cushioned table, Arlana began by gently massaging my face with a gel cleanser. She performed this step twice, saying that the peel would penetrate better once she removed as much makeup and oil as possible. Even as she applied the peel, it felt great, because she used a soft sponge that just glided over my skin. She also applied some hydrating serums, did extractions, and painted on a strawberry mask that smelled good enough to eat. By the end, I was ready to take a nap.
2. It doesn't hurt that bad.
With that said, Arlana did take some precautions. She shielded the areas around my mucus membranes (i.e. corners of my nose, eyes, and mouth) with a petroleum gel that would prevent the peel from getting in them. And when it came time to apply the peel (which had a gel-like consistency), she started with a very thin layer to gauge how my skin would respond. She said most people start to get red right away; I only got a little pink, so she proceeded to apply a second thin layer.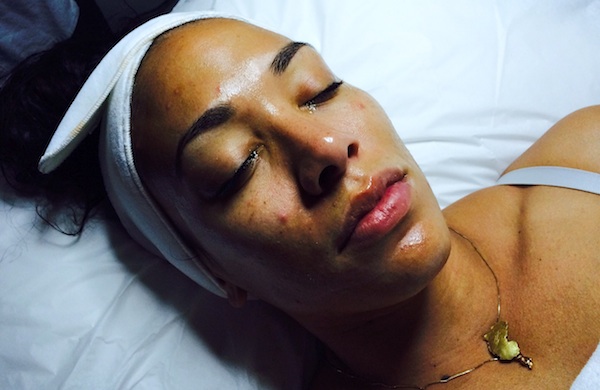 It did sting somewhat. But it was nothing I couldn't sit through. As you can see above, I came to Allure with a few breakouts, so Arlana used a salicylic peel, and most of the stinging was concentrated on a spot beside my nose where I had a pimple. It did smell strongly of chemicals, but it didn't bother my eyes or anything. By the time she finished, I didn't feel the stinging anymore. It did start to tingle again as she washed the peel off—which she warned me would happen—but that strawberry mask calmed my skin immediately.
Of course, everyone's tolerance is different. Some people are more sensitive, and in Arlana's experience, those with really oily skin sometimes like the tingling sensation.
3. Do not try it at home.
Aestheticians can't even do full-strength peels unless they're under the direction of a doctor. (Arlana was using a 25% peel on me, but medical offices can perform up to 90% peels.) In fact, it can be dangerous to attempt even a spa-grade peel at home.
"If you leave it on the skin for too long, it will resemble a burn," Arlana said. "If you don't know what you're doing, you can damage your skin."
She feels the same way about DIY extractions. As she explains, oil, blemishes, and even skin tends to harden. A chemical peel softens everything, making it easier for an aesthetician to squeeze things out of pores.
"Some people go overboard and start digging into their skin if they can't get something out," Arlana said, which can lead to scarring and spread bacteria. "For people at home, it's better to just use a spot treatment."
4. Aftercare is important.
I may have gotten to kick my feet up during the treatment, but I left Allure with some homework. Had it been later in the day (it was only noon), I could have skipped my skincare regimen that evening. But since I had plenty of running around left to do, Arlana suggested I use a gentle cleanser and moisturizer before bed. She also said I could put Neosporin on my blemishes later to prevent any scarring from the extractions.
But because skin is more absorbent after a peel, there were also some things Arlana recommended I avoid. Makeup, for one (but only for the next day or so). If I really needed to put some on, she said I should use a primer first to keep the makeup from settling into my pores. Also, the sun. "You're kind of wasting your money if you're getting these treatments … and then just going back into the sun," Arlana said.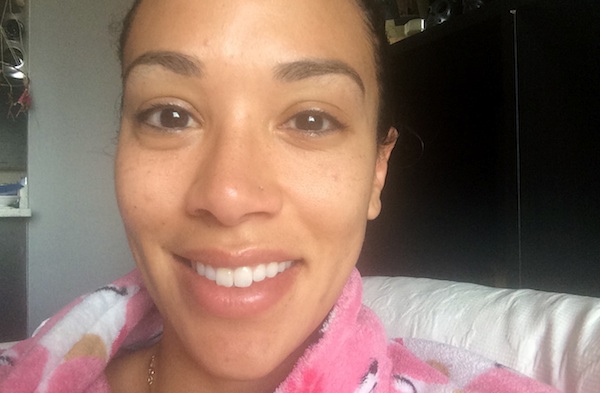 5. Your skin will look better—just be patient.
Arlana finds that a lot of people get great results even after a single treatment. I was surprised afterward to see that my skin really wasn't red or peeling. She said that in the following days, I could eliminate any flaking by using a cleanser with microbeads. Four days later, I haven't seen any flaking.
And even though she said it would take up to a week to see the full, glowy results, my skin is already much clearer. It's not exactly glowing yet, but hey, I've still got a few days left.
Photos by Kelly MacDowell and Favin Gebremarium, Groupon