A First-Timer's Guide to Chicago Bears Tailgating
BY: Scott Hirsch |
Jun 24, 2016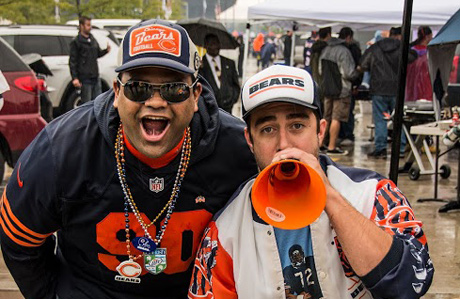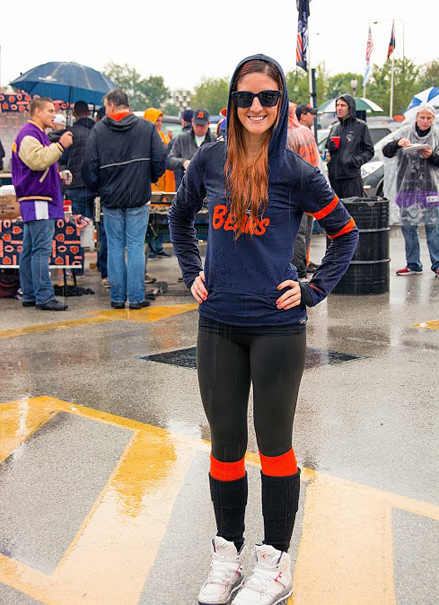 Like the Chicago Bears themselves, tailgaters should have a game plan before heading to Soldier Field. Including the tailgate and the actual game, you'll clock about eight hours outside—in the winter. You'll need to stay warm and well-fed, so you'll want to be prepared. I traveled to Soldier Field's tailgating lots at 8 a.m. for two consecutive games to glean some tips for those new to tailgating: first, on the idyllic 75-degree morning of the Bears' 2013 season opener, and then the following home game, a much chillier, rainy affair. I met some seasoned tailgaters—folks who've spent decades setting up makeshift living rooms and kitchens in Soldier Field's parking lots—and asked them to share their advice on what food, grills, games, and gear are necessary to endure and enjoy a proper Bears tailgate.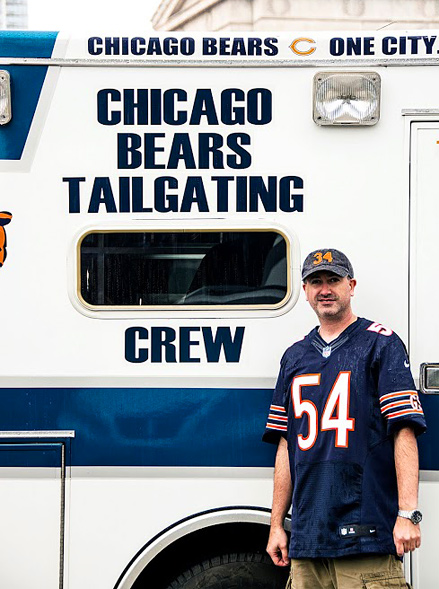 The Etiquette There was a palpable feeling of camaraderie in the tailgate lots. The weather—be it balmy or brisk—and collective Bears pride seemed to elicit a brothers-in-arms attitude that materialized in the form of random high-fives and the sharing of food and drink. "Sometimes people stop by, we offer beer and food," said Chris Brynolf, a season-ticket holder since 2006. This sentiment was also echoed by Anthony Cassata, who's been tailgating for 20 years and parks in the same spot at every game. "Everybody borrows from each other. Lot of times we run out of cups, we borrow them from the guys right next to us. We share shots. Everybody gets together; it's a big community." Still, first-timers shouldn't expect to coast on the generosity of others. To earn your place, it's probably wise to do as Brynolf does: "We always bring extra." The etiquette extends to the staff as well. "Security and the police are your friends," Brynolf told me. "We'll offer the police a sandwich [or] something to stay warm." Later, as the fans began packing up and heading toward the stadium, I spotted a cluster of security guards feasting on ribs and steaks.
The Food "The most important thing is to not confine yourself to burgers and hot dogs and brats," Brynolf told me. "Because you can do whatever you want." And Brynolf certainly heeds his own advice. When I spoke to him, he was cooking shrimp on a trailer-hitch grill attached to his tailgate vehicle: a repurposed ambulance decorated with Bears logos and "Bears Tailgating Crew" stenciled across the side. Elsewhere, season-ticket holder Corey O'Brien devised his own unique way to mix up the menu: by incorporating iconic dishes native to the opponents' city. When I spoke to O'Brien, he was grilling up Juicy Lucys—cheese-stuffed burgers that are a staple of the Minnesota Vikings' native Minneapolis.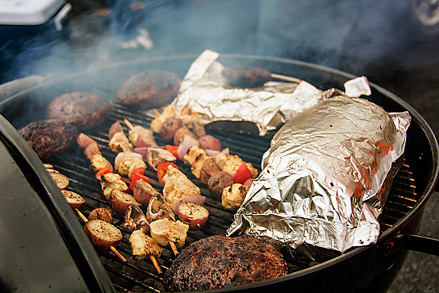 The Grill Veteran tailgaters such as Brynolf use elaborate trailer-hitch grills, but first-timers don't need an extravagant setup to stay nourished. Brynolf recommends "anything portable. These little pop-up grills with the canisters … are great for somebody starting out. The little Smokey Joes, those are great." One thing Brynolf stressed: "You gotta have time to let [the grills] cool off." Many tailgaters let their grills cool off during the game, which is wise especially for those planning on making a hasty exit after the game (tailgating lots do stay open two hours after the game ends).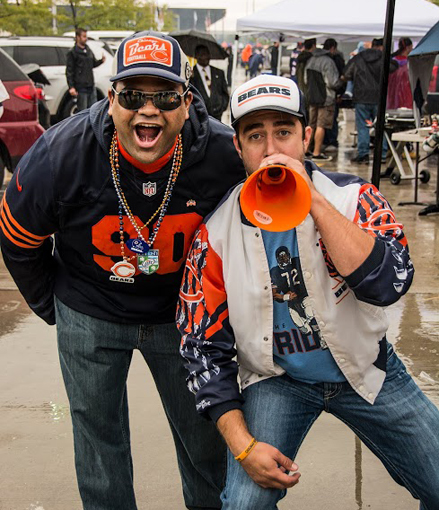 The Drink Libations on opening day were in large supply, from fishing coolers full of beer to 15-foot tables with more bottles of booze on display than a neighborhood dive bar. From what I saw, the festivities were high-spirited but never out of hand. Have fun, but pace yourself, was a common refrain told to me by many. After all, once the drinking and partying subsides, there's still a little matter of the game. Bears tickets aren't cheap, so it's probably a good idea to be conscious for kickoff.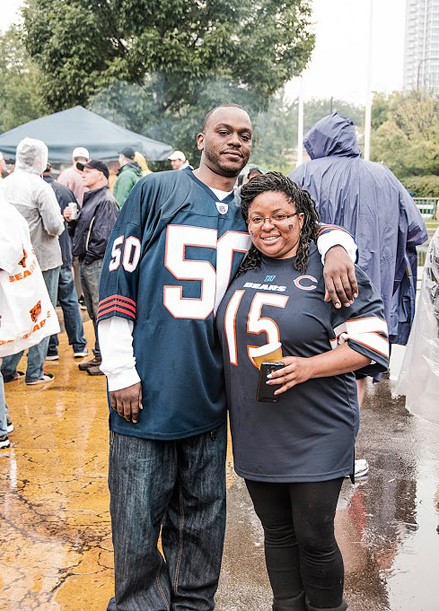 The Weather The consensus on dressing for the winter is clear: layer up. "Many, many layers," Brynolf said. "If you get warm, you can take layers off. You can't put layers on if you don't got 'em. Don't try to look good; just try to stay warm." Hand warmers are also a hot commodity. "Heating pads for the gloves but also for the feet," Cassata said. "The feet—the toes—are the first things to get cold." He may not be a doctor, but I'm inclined to believe him: as a 20-year tailgating veteran, he's clocked more than 1,000 hours standing outside on Chicago's wintry lakefront.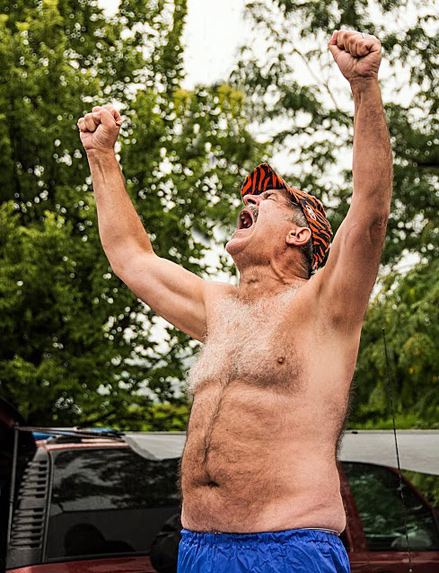 The Hours Before the Game Whenever you're spending four-plus hours on a slab of cement, it's a good idea to keep yourself entertained. Brynolf has a flat-screen TV mounted to his ambulance. Other tailgaters blast music through club-sized speakers. Cornhole seems to be the trending lawn game. And at any given time, there will probably be more footballs in the air than stars visible from the observatory at nearby Adler Planetarium. (If you happen to take a football to the head, you'll likely be offered a couple of ribs or a burger for the damages. I picked up this little nugget of wisdom firsthand.) Then there are those intent on killing time the old-fashioned way: by standing on the roof of their vans, ripping off their shirts, and delivering chest-pounding battle cries to the masses. Everybody I met in the South Lot told me I had to catch Fiesta Bob's game-day rally speech. I had no trouble finding him, thanks to the colorful beads around his neck, his bushy Chicago-patent mustache, and the fact that "Fiesta Bob" was embroidered on the back of his jersey in bright orange. Bob, who's been tailgating at Bears games for 20 years, makes a speech before every home game (at 10:30 a.m. before traditional noon kickoffs). And he takes his job seriously. "I have to do my homework," he said. "I have to study who we're playing; I gotta know what's going on." The fans take it seriously, too. At about 10:20 on opening day, a large crowd formed around Bob's white utility van. They began chanting "Bob! Bob! Bob!" At 10:35, Bob grabbed the mic, leapt onto the hood of the van, and addressed the crowd: "Last night, I was like a kid on Christmas Eve!" During his speech, he expressed hope for the upcoming season and, via colorful adjectives, sent a warning to rival teams. "We're going to go back to the playoffs," he yelled, "where we belong!" Cheers and fist pumps ensued. Then Fiesta Bob tore off his jersey and started beating his bare chest with both fists. Somebody handed him a bottle of liquor, about a third full, which he drained with one long, savage pull. The crowd roared. Forget kickoff; it seemed that for the fans in that little corner of the South Lot, this marked the official start to the Bears' 2013 season. The Hard Facts
Tailgating is allowed on all surface lots in the Museum Campus, on the upper level of the Waldron deck, and in the 31st Street McCormick Place Lot B.
Tailgating is allowed four hours before the game and two hours after the game.
Tailgating is prohibited during the game.
You must purchase parking tickets to park in the tailgating lots, and you must have a ticket to the game to park in a tailgate lot.
Tailgaters are limited to one single parking space per vehicle.
Alcohol is allowed, but only within the confines of the parking lot.
A new NFL-wide rule prohibits fans from bringing bags into the stadium, so plan accordingly
Click here to view a full list of rules and regulations.
---
---
Bluetooth Speaker Buying Guide
Whether you're listening to pre-game updates or blasting the parking lot with anthems, this guide will help you choose the right portable speaker.
---
---
Photo: © Adam Hirsch