GROUPON GUIDE TO SAN FRANCISCO
Best Restaurants for Dining with Large Groups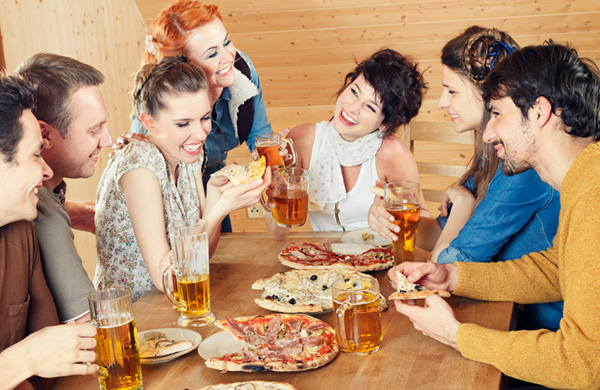 Dining out in groups larger than four can be tricky business in San Francisco. Wait times can be excruciatingly long, harried wait staff often find large groups to be a pain and many restaurants simply make no effort to seat a big gathering together at all. But the pleasures of a long, leisurely dinner full of catching up with old friends are not to be underestimated. And while reservations well ahead of time are never out of place, some of the city's best restaurants welcome spontaneity – even in large groups.
Gigantic, indoor-outdoor Mission mainstay Foreign Cinema already has a number of large tables as part of its standard floor plan, and it's a terrific place for a ten-person brunch or dinner for a clan-sized family. With a bit of advance notice to the staff, they can push a few heat lamps together and generate some intimacy for even the biggest gaggle of humans, including people who talk through whatever film they're screening on the rear wall.
Casually upscale Hayes Valley bier hall Suppenküche is a great choice for a big group, considering they don't even accept reservations for parties smaller than six. While it may be a bit on the loud side in the main room, scoring a table toward the back makes a conversation among friends perfectly feasible. The fabled German Boot, a titanic glass drinking vessel in the shape of, well, a boot, was clearly designed for big groups to pass around in a spirit of camaraderie. At Suppenküche, big and boisterous groups certainly aren't frowned upon – in fact, they're almost mandatory.
For a medium-sized group in the six to seven person range, Velvet Cantina is a perfect fit. The dimly lit Mexican place, located in the Mission, boasts two separate dining rooms and lots of round corner booths, big enough for everyone to squeeze in over a pitcher of margaritas. Far from fancy, Velvet Cantina's relaxed vibe makes it a great place for friends to grab a snack, put back a few adult beverages and really have some fun. And on any given night, there will be at least a birthday or two, which means you might just end up singing happy birthday.
If your group is more, shall we say, picky, head to Millennium. The massive Tenderloin palace of all things vegan has something to satisfy every taste, making it the ideal place to split the difference for groups that contain gluten-free, vegan, vegetarian and carnivorous eaters. Hip but not overly so, it's consistently packed full of large parties experiencing one of several tasting menus. And unlike lots of other vegetarian or vegan spots around town, Millennium has a full bar, meaning there's no excuse to not gather up here with ten or so of your best friends.