GROUPON GUIDE TO WASHINGTON-DC
How to Propose in a Restaurant (Tips from an Engagement Guru)
BY: Groupon Editors |
Sep 20, 2022
There's something special about getting engaged over a romantic dinner. But if you're wondering about how to propose in a restaurant, know that there's a right (and wrong) way to do it.
Jeff Lawler is considered the "engagement guru" at Geja's Cafe, a candlelit fondue restaurant in Chicago where thousands have gotten engaged. As a managing partner of the restaurant, he's orchestrated more than 300 engagements, and his success rate is near perfect. Below are some tips Lawler gave us on how to propose in a restaurant, including advice on when to ask and where:
1. Pick a restaurant that's special to your relationship.
Lawler said you can't go wrong with a place that's "close to your heart." Maybe it's where you had your first date, or maybe it's where you first said "I love you."
"Hell, McDonald's could be a place if you had a special, special date at McDonald's," he said. "You don't need to spend hundreds of dollars to get engaged."
If you're a regular, the staff might be able to put a special spin on the evening, like Lawler did for one couple with one of the more clever ways to propose. One woman didn't propose to her girlfriend during dinner at all—but when they left the restaurant, the couple's friends were all waiting on the balcony above to celebrate as she (finally) popped the question.
2. Don't have a special place? Go for ambience.
If you don't really have a "special place," you might try go for the right atmosphere: moody lighting, fine cuisine, and especially attentive service. If that's the direction you're going in, consider the following:
3. Call ahead.
"Call and say, 'I'm considering getting engaged at your restaurant,'" Lawler said. The staff will want to talk about what you have in mind, whether you've dined there before, and what kind of vibe you'd like the engagement to have (fun and playful or romantic and meaningful?).
4. Ask for help from the staff.
If you don't know what you'd like to do, the staff will probably have some good ideas for proposing as well as some helpful tips. "At every restaurant, there's a good time to come in to get a good table," Lawler said. Make sure you know when that is.
"You'd be surprised how many people will just show up, get a crappy table, and then pop the question," Lawler said. "Most restaurants would take great pride in creating a very nice evening for people [planning] one of the biggest events of their life."
5. Decide when you want to pop the question.
Waiting until the end of the meal is classic. Then again, "when you do it at the end, whoever is doing the asking has to sweat about it" throughout the meal. Lawler believes asking near the beginning of the meal can be better—that way both people can enjoy the occasion.
"Doing it at the beginning, you get it done and the dinner becomes very celebratory," he said. "You can kick back, relax, and enjoy a very nice, special dinner."
6. If you're hiding the ring, pay attention. Close attention.
Lawler recalled hearing about one man who put the ring on the dessert platter. His girlfriend chose a treat, dipped it in chocolate fondue, and took a big bite. "He didn't catch it, and she chipped her tooth on the ring," Lawler recalls. She still said yes, but "they went to the dentist right afterward."
7. Ask the server to snap some pics.
"Most restaurants won't mind taking a few pictures," Lawler said, especially since you could just hand over your smartphone. But you may not want to go as far as one groom-to-be who set up two cameras in a nearby booth to film the entire dinner, which was more than two hours long.
8. Don't beat yourself up if nothing goes right.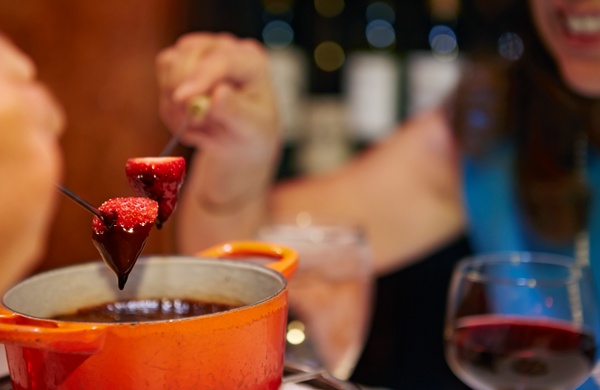 Above: Geja's Cafe, a candlelit fondue restaurant in Chicago where thousands of couples have gotten engaged. Photo by Groupon.
One of Lawler's most-memorable stories involves a man who had meticulously planned out the entire evening, deciding what they would eat and drink (and exactly how much it would all cost, including tax and tip). He came in ahead of time and canvassed all the tables to pick the best seat.
During dessert, he went to the coatroom and retrieved a box. When he came back to the table, he proposed, handing his girlfriend the box—which contained not a ring but a pair of shoes. (Sadly, Lawler never did find out exactly what kind of shoes.)
She said no.
"He was upset. He was crying. She consoled him. We consoled him. We did shots of tequila with him."
A few years later, Lawler happened to run into the woman's mother at a charity event and she mentioned that her daughter had been proposed to at Geja's. When they realized the connection, he asked what became of the couple. Turns out, they slowed things down, and a year later he proposed again (successfully this time).
Moral of the story: Even if you propose with a pair of shoes, things can still work out ... later.
9. No matter what, enjoy the moment.
The bottom line? "Have fun," Lawler recommended. "Have it come from your heart."
RELATED READS:
---
A Server's Uncensored Thoughts on Tips, Tip Jars, and Split Checks
Advice on how much to tip to make your server, bartender, and barista happy.
Who Should Pick Up the Check on a First Date?
Three experts on when dates should grab the check—and when to just make a fake grab for your wallet.
How Much Should You Tip the Pizza-Delivery Guy?
15%? Or a couple bucks? A former pizza-delivery driver gives a definitive answer.
---