It Is a Truth Universally Acknowledged That "Pride and Prejudice" Parties Rule
BY: Stephanie McDaniel |
Apr 23, 2014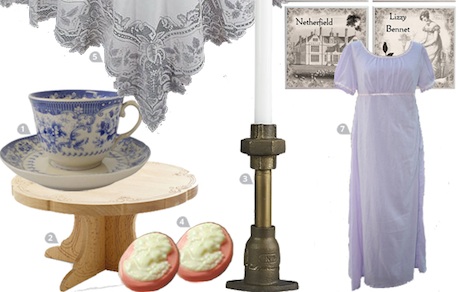 Dress up like Lizzie Bennet to host afternoon tea with a table setting worthy of Pemberley.
On rainy spring afternoons, nothing beats curling up with a Jane Austen novel—but a few hundred pages and a few million raindrops can be enough to tire out your eyes and your heart. When that's the case, invite friends over for a
Pride and Prejudice
–themed party that could lure even Lizzie Bennet herself away from her reading. Set the table for afternoon tea with a lacy tablecloth and porcelain teacups in a traditional blue-and-cream scroll pattern. Antique brass candlesticks hold wax or soy candles, whose fragrance is undeniably more pleasant than the animal-fat tallow of Austen's day. An etched wooden cake stand can hold treats such as petit fours or homemade chocolates freshly popped from a cameo-shaped mold. While discussions of Austen crossover fanfic are encouraged (Mr. Wickham and Elinor Dashwood, anyone?), a set of
Pride and Prejudice
–themed ceramic coasters keeps the conversation from veering toward Lord Byron or those blasted Brontë sisters. When teatime is over, you'll know it was a success if guests don the custom Regency dresses you draped over their chairs and tell you "how ardently [they] admire and love you"—or at least how much they loved your party.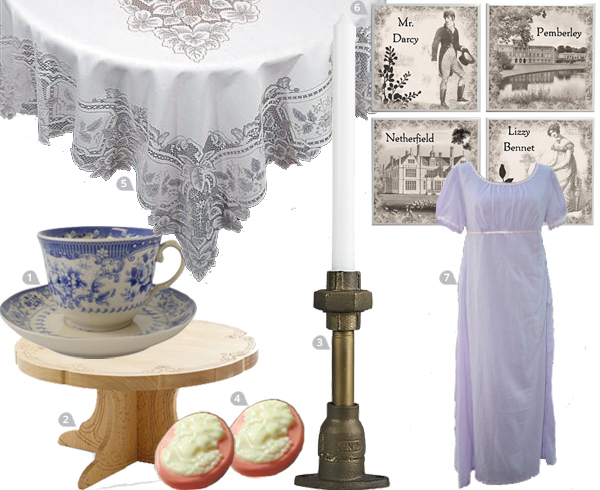 1.
Pemberley Collection teacup and saucer
, Jane Austen Gift Shop; (£8.33 excluding VAT) 2.
Etched wooden cake stand
, Modcloth; ($44.99) 3.
Antique brass candlesticks
, CB2; ($18.95) 4.
Cameo chocolate mold
, Victorian Trading Company; ($9.95) 5.
Heirloom lace tablecloth
, Victorian Trading Company; ($69.95) 6.
Pride and Prejudice ceramic coasters
, LemonPlumDesigns on Etsy; ($14) 7.
Custom Regency dress
, SewManyTreasures on Etsy; ($145)