Joe Meno on Where a Writer Eats
BY: Katie Cortese |
Feb 18, 2016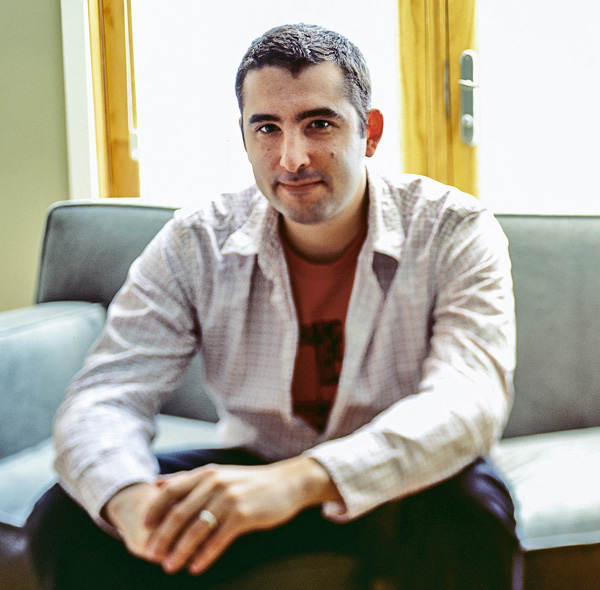 In Joe Meno's Chicago novels, characters often find solace in unloved corners of the city. A trashy South Side arcade welcomes teen punks in Hairstyles of the Damned (2004). An empty Field Museum exhibit comforts a disgraced professor in The Great Perhaps (2009). The frigid winter Chicago streets serve as a bike route for a pair of hipsters in Office Girl (2012). When the Nelson Algren Award–winning author is out and about near his East Village home, however, he often opts for places a little more bustling.
Fresh from finishing his seventh book, whose title and plot are still under lock and key, Meno—who was a professor of mine at Columbia College Chicago—let me in on a few of his favorite spots from around the city.
GROUPON: Do you have a favorite bar, café, or restaurant to go to and write?
JOE MENO: I write in my office at home. But I do [go out] when I have a meeting when I am working on a book. Like this last book I did, Office Girl. There were two different artists involved, so we would frequently meet at this place, the Birchwood Kitchen over on North Avenue (2211 W North Ave). It's a great little place with artisanal sandwiches and really beautiful burgers and stuff like that. They have art on the walls. It just has a very great energy. And a lot of design people and musicians and folks you run into seem to turn up there. So if I have to do a meeting for some project, I end up going there.
G: You've said your favorite author is William Faulkner. Where would you bring him to eat or drink in the city?
JM: Longman & Eagle (2657 N Kedzie Ave) in Logan Square has this awesome, just really incredible, bourbon list. I actually think they started bottling their own bourbon in small batches. I know Faulkner was a fan of whiskey—and bourbon in particular. It might be a little noisy for his liking, but that would be the place to go.
G: You are also a professor in the Fiction Writing department at Columbia College Chicago. Where do you go to eat in between classes?
JM: I go to Tamarind on Wabash (614 S Wabash Ave), if you have time to actually sit down and have a human meal. That place is great. It's Pan-Asian and they have these great bento box lunch specials, and the miso soup is really, really good.
G: Where do you go to people-watch?
JM: Well, we [Meno and his wife] live in East Village, and they opened just in the last couple of years all these different cafés and they all have outdoor seating. So one of my favorite restaurants is the place Mana on Division (1742 W Division St). We are vegetarian and they serve all vegetarian dishes that are all small plates so you can order a bunch of different stuff. They have these amazing vegetarian sliders. And they have this happy hour where you get a couple of sliders and a beer or wine or something. So we go and we take our kids up there, and there are tons of people walking around, coming home from work or going out to eat.
G: Where would you most likely go to run into another author?
JM: The obvious one would be The Book Cellar (4736-38 N Lincoln Ave) in Lincoln Square. It is the only bookstore that I know has a bar and a café in it where they actually sell booze. It's just one of the best bookstores in the city, but they also have drink specials. And it's one of my favorite places to do a reading because it is intimate and quiet and it's not like doing a reading in a bar—where sometimes you feel like you are fighting against the audience—but you can still get drinks there, so it's the best of both worlds: a bookstore and a bar.
G: You have written quite a few novels and collections of short stories. Where do you go to celebrate when another piece of writing is published?
JM: So when I have something really special, something interesting happen, we get a pie from this place on Chicago Avenue called Hoosier Mama Pie Company (1618 ½ W Chicago Ave). They have a couple of seats where you can sit down and eat a slice of pie. They have every day something like 15 different pies and they have coffee and stuff too. We just go there and buy some pies and they have this awesome banana cream pie. I had this story on NPR Selected Shorts a couple months ago, and that was like a milestone, so we went and got some pies. We're easy. Also, there is this awesome, awesome place on Taylor Street—Davanti Enoteca (1359 W Taylor St)—it's Italian, small plates, and really, really good. We end up going there for my wife's birthday or Father's Day or something like that. And they just started having brunch on Sundays and they have this bloody mary bar where you make your own bloody marys, which is perfect for a dad on a Sunday morning with two kids. Just go make your bloody marys and enjoy your breakfast.
G: Do you have a favorite character that you have created? Where would that character go get a bite?
JM: Well, my most popular book is the Hairstyles of the Damned book and there is this kid in it, Brian, who is the narrator—a high-school kid. And it's set on the South Side of Chicago. It's actually set at the high school I went to and there is this hot-dog place across from that high school called Wojos (9851 S Pulaski Ave) and they have like a hundred different kinds of milk shakes and it's perfect after-school teenage food, you know what I mean? In that neighborhood and on the South Side, it is kind of like a landmark.
G: Where did you grow up? And when you go back to visit family, where do you go out to eat now?
JM: So I grew up in Evergreen Park. My mom still lives there and we go visit her every couple of weeks and we bring the kids. There is this place on 93rd and Kedzie called Snackville Junction (9144 S Kedzie Ave). It's kind of like a diner. They have hamburgers and hot dogs and grilled cheese and milk shakes and stuff, but there is this train track that goes all the way around the restaurant and the train brings your food out. That was a place I went to as a kid, and now my kids—it's like going to Disneyland for them. It's their favorite, and I still get this odd thrill of going there. It such a really simple idea and I don't know why it gives me so much pleasure to have a toy train bring your plate out. It's just that as a parent you have these opportunities to revisit these things you did or these places you went with your kids, so it's part of that nostalgia.
G: When you were a kid, where did you beg your parents to take you?
JM: There is this place Rainbow Cone (9233 S Western Ave). It's an ice-cream cone made of like seven different layers. They are not scoops of ice cream. They are more like horizontal slabs in seven different flavors. It's hugely famous on the South Side. In the summer, that was the place to go. So anytime I have anybody, like a friend, come in from out of town, and they have never been to Chicago, and it's summer, we will drive down there to go check it out.
His new novel won't be released until next fall, but Meno still has much to keep him busy. This summer, at the prestigious Lincoln Center Directors Lab, he worked on adapting his novel Boy Detective Fails into a musical; he hopes to find a New York production for it soon. He will also help a new trove of writing students polish their words in his classes at Columbia College Chicago. Photo: © Joe Wigdahl