GROUPON GUIDE TO WASHINGTON-DC
The Queen of Wien Dispenses Hot Dog Wisdom for the Fourth of July
BY: Liz Juranek |
Jul 1, 2014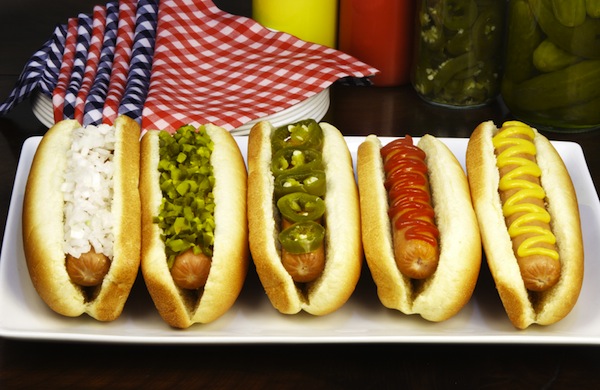 On the Fourth of July, Americans will eat 150 million hot dogs. That's as if everyone in New York City and Chicago, perhaps the cities most associated with the sausage, spent the day eating 15 hot dogs each.
It's no wonder July has been dubbed National Hot Dog Month. National may presume a country-wide devotion, however, and although most Americans love hot dogs, they definitely do not love them all equally. If a July 4 picnic sees families from Arizona and West Virginia getting together to grill a few dogs, the fireworks won't be the only flare-ups that day.
To grasp why Americans are so passionate about hot dogs—and to find out the origins of her intriguing nickname—we spoke to Janet Riley, president of the National Hot Dog & Sausage Council and self-proclaimed Queen of Wien.
What makes a good hot dog?
"Everybody has their own ideas about that," Riley said. "There are few foods where people have such strong feelings about their hometown favorites." For the dog itself, Riley says it's about the meat and seasonings, and you'll need to know if you prefer natural casings, which are made from intestines and have a bit more snap, or skinless varieties, which are how most hot dogs in stores are sold.
As for toppings, cities across the states have their own dictums on the one true way to dress a hot dog—we're basically one snide comment about brown mustard away from a second civil war. About 10 years ago, the NHDSC polled Americans on their favorite type of hot dog, and New York–style dogs beat Chicago's variety.
"We put out a press release," Riley said, "and we saw an editorial in the Chicago Sun-Times saying how stupid we were. People really feel strongly about which hot dog is the best."
But why are people so passionate about regional hot dogs? Who cares if you put ketchup on a hot dog?
"They're so strongly associated with memories," Riley said. "You eat them at baseball games, birthday parties, and family picnics. It's kind of like your mom's spaghetti sauce—the kind she made, that's the way it's supposed to taste."
Although the country can't agree on standard hot-dog toppings—Riley said that's why there aren't any national hot-dog chains—all regions seem to agree to nixing ketchup on hot dogs. Riley said mustard's bold flavor goes well with hot dogs, and ketchup is seen as a kids' food.
Why do Chicago dogs have so many toppings?
The Chicago hot dog was originally called a Depression Sandwich, Riley said. She said different vendors used to compete to see who could add the most fixings (now standardized as raw onions, bright-green relish, a pickle spear, tomato slices, sport peppers, and a sprinkle of celery salt). There were so many toppings, it was almost like eating a sandwich.
What are the next big trends in hot dogs?
Surprisingly, corn dogs are becoming more popular—the NHDSC's 2014 study said 46% of Americans name it their favorite hot-dog variety. Riley said corn dogs are loved in Iowa and Texas, but became more popular across the country because they're sold frozen in grocery stores.
In contrast to plain corn dogs, spicier sausages, such as jalapeño dogs, are also being gobbled up more often. "That speaks to the growing popularity of spice in our culture and the emergence of ethnic foods and ethnic populations," Riley said. "Americans are becoming more accustomed to spicier food."
Another way Americans are embracing hot dogs with more kick is with the rise in popularity of the regional sonoran dog, originally from the Southwest. A grilled, bacon-wrapped dog is covered with most of a grocer's condiment aisle: pinto beans, grilled onions and green peppers, tomatoes, relish, tomatillo-jalapeño salsa, mayo, mustard, and shredded cheese. "It's a gooey mess, and it's delicious," Riley said.
OK, seriously, what's with the Queen of Wien name?
"I was on radio one time, and they asked if I was the Hot Dog Queen," Riley said. "This was when Leona Helmsley was being called the Queen of Mean, so I said, 'I prefer to be called the Queen of Wien, thank you.'"
Shop for deals on encased meats and other treats at local restaurants.