This Trapeze Workout Is a Whole Different Kind of Intense
BY: Christie Succop Eckert |
Dec 9, 2015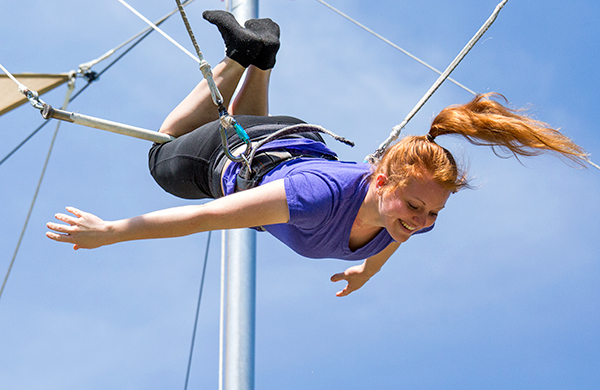 Trapeze School New York's classes might be the only workout that works your emotions as much as your muscles. First you feel excitement as you arrive for class at Belmont Harbor on a beautiful summer morning. Then, terror upon being told to climb a narrow ladder to the top of a 23-foot platform. Euphoria sets in when you reach the top and take in the view of Lake Michigan dotted with sailboats—followed by panic when you foolishly look down.
But all that fades when it comes time to act. There isn't time to process your feelings when you're focused on grabbing a 10-pound trapeze bar with both hands and taking the leap off the platform. Only when you're soaring through the air do you experience an adrenaline rush that, if you're like me, will make you want to run back up the ladder and leap again.
I discovered all this during my first class on a recent June morning. The structure of the class was simple: three instructors started with some basic safety guidelines before teaching three moves—a knee hang, a backflip dismount, and a catch. In a class of 10 students, each person gets to fly six times, trying out each move twice.
The final move, the catch, was the most complicated. It builds off the basic knee hang: let your hands go from the bar, arch your back as gracefully as possible, form "catch hands" (which resemble mittened hands), and reach for the "catcher" on the other trapeze. This last make-or-break moment was my undoing. I was supposed to maintain my catch hands, let the catcher grab my wrists, and unhook my legs from the bar. But instead, I tried to grab my catcher's wrists; the moment passed, and I missed the catch.
I was reassured, though, by my supportive instructors and the sound of my classmates shouting, "You can do it!" I even heard cheers from curious passersby who had no idea a trapeze class met regularly just steps from the Lakefront Trail.
Between turns, I shook off my mistakes the way the instructors recommended: with jumping jacks, sit-ups, pushups, and shoulder stretches. Staying loose is essential, since trapeze jumps demand a lot of arm, leg, and core strength. Over time the jumps can also improve body awareness, endurance, and flexibility, as subsequent sessions build on the skills you learn in the first class.
Try it if:

You're looking for a full-body workout and a chance to finally live out dreams of being a circus performer. TSNY recommends the class for ages 6 and older.

Don't go if:

You have an absolutely paralyzing fear of heights.

Beware of:

The bar. It's 10 pounds and will bruise your legs.

Invite a friend who:

Is as fearless as you are, or can stay on the ground to photograph and record your stunts. Or, take the class solo. Everyone tends to form an instant bond.

Come prepared with:

Stretched-out muscles and a fully charged camera or camera phone.

Wear:

Socks and form-fitting pants; a harness will keep your shirt from flying up, but you still may want to wear something that will stay in place.

Intensity level:

High. It's physically and emotionally draining, and you will be sore and bruised.
Photo and video by Andrew Nawrocki, Groupon