Eating Out with Kids in Austin
BY: Heidi Gollub |
May 5, 2014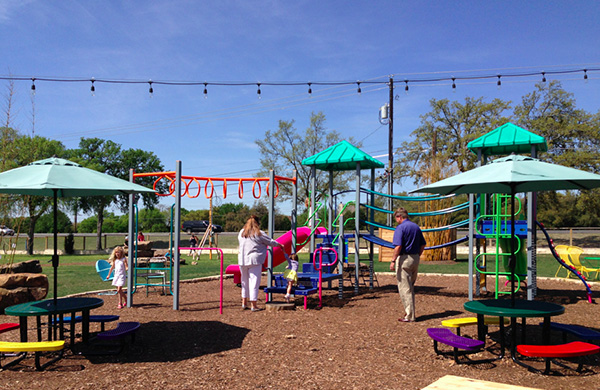 We are spoiled for choice when it comes to dining in Austin. From local restaurants to grocery stores, there are countless delectable options. Even our eclectic collection of food trailers are dishing up gourmet eats at a reasonable price!
But, taking kids out for a meal can sometimes seem like a chore. Will they behave? Is it easier to just stay home and eat cereal for dinner?
Fortunately, there are plenty of places around town where you can grab a bite to eat and let the children run free! Here are a few of my family's favorites:
Midway Food Park | 1905 S. Capitol of Texas Hwy., Austin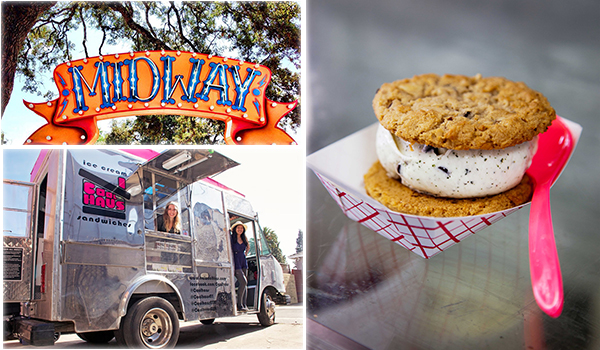 Midway is an outdoor park with seven food trucks, ranging from Dock & Roll Diner (seafood) to CoolHaus (ice cream sandwiches). The park has a festive carnival atmosphere, with carousel horses hanging from a tree, Christmas lights, a stage for live music, and brightly colored picnic tables with umbrellas. Kids love the colorful playscape (pictured above), rocks to climb, and the large fenced-in field strewn with balls. In fact, Midway is so entertaining for children, you may have a hard time getting yours to eat at all.
Two things to note: 1. Go early, as food does sell out and lines get long. Parking also becomes scarce and visitors have to park on the grass. 2. Each food truck sets their own hours, so not all of the trucks are open at the same time. Check their individual Facebook pages for hours.
There is no disputing that the Driftwood location of The Salt Lick is worth the drive, but if you're looking for quality barbecue a little further north, the Round Rock restaurant is a great alternative. Ribs and brisket and smoked turkey, oh my! Seating at picnic tables is casual and the outdoor playscape keeps antsy kids happy.
Central Market | 4001 N Lamar Blvd, Austin | (512) 206-1000
It may seem odd that one of our go-to dining destinations is a grocery store, but when it comes to relaxed family atmosphere, Central Market is tops. The cafe serves up delicious meals and dining on the patio with free live music Thursday to Sunday is always a treat. As a bonus, kids eat free on Tuesdays after 5 p.m. Children have a blast on the massive playscape, and can burn off a little steam in the neighboring field. Family walks to the duck pond after dinner are the icing on the cake.
Whole Foods | 525 N Lamar Blvd, Austin | (512) 542-2200
My kids can't get enough of the flagship Whole Foods Market downtown. The awe-inspiring array of soup, salad, cookies and other miscellaneous food bars are something that you have to see to believe. My kids love crafting their own meals, one fresh roll or spoonful of lo mein at a time. The options are endless. With to-go meals in hand, we head up to tables on the rooftop plaza and let the kids enjoy the small wooden playscape.
Southpark Meadows | 9300 S Interstate 35 Frontage Rd, Austin
This shopping center in South Austin has a large playscape flanked by several restaurants, so you have your choice of where to eat. Mama Fu's, Jason's Deli, Waterloo Ice House, and Amy's Ice Creams - you can't go wrong. Dine, play, let the kids get wet in the seasonal water bubblers, and delight in the occasional band playing on the stage in The Grove. It's a great place to hang out as a family.
Photo of Midway sign courtesy of Midway Food Park, photo of Coolhaus courtesy of Coolhaus, photo of Amy's Ice Creams courtesy of Brandon Bergara