GROUPON GUIDE TO WASHINGTON-DC
The Sandwich That Ditches Bread for a Pair of Bananas
BY: Alison Hamm |
Mar 18, 2015
The jibarito (pronounced hee-bah-ree-to) may be a staple in Chicago's Puerto Rican neighborhoods, but it's not exactly a Puerto Rican sandwich. The jibarito was actually invented by Chicago's own Juan "Pete" Figueroa of Borinquen, a Puerto Rican restaurant.
Regardless of where you're eating your jibarito, there's an easy way to know if it's authentic: instead of bread, the Puerto Rican sandwich is built with flattened and fried green plantains. A traditional jibarito usually calls for steak, but other meats, such as pork or chicken, can be substitutes. When done right, the plantains should be crispy but not too greasy. Other key ingredients are mayo, garlic, and american cheese.
The Setup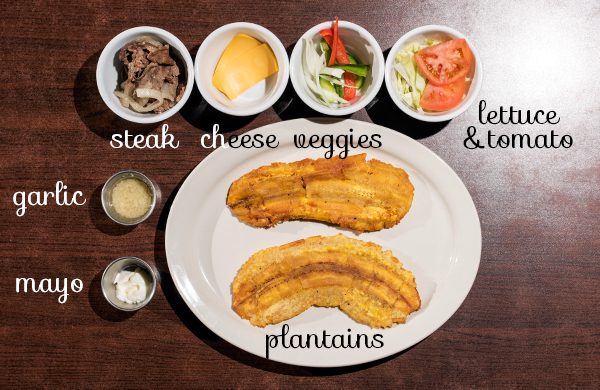 After frying the plantains, slather the mayo and garlic on the bottom plantain, then add the lettuce, tomato, and sautéed green and red peppers and onions. Next comes the meat or, for vegetarians, avocado. Top it with slices of american cheese and the other fried plantain.
The Experts
The jibarito remains a common lunch choice in its birthplace of Humboldt Park, especially at eateries along the neighborhood's four-block stretch of Division Street, where a pair of massive steel Puerto Rican flags arch over the street at its east and west ends. That's where Pablo and Cindy Espinosa, the husband-and-wife team behind Nellie's, make and serve their traditional steak jibarito, the Puerto Rican restaurant's most popular version of the sandwich.
Why is the jibarito so good?
The freshly fried green plantains. Even when customers have never had—or heard of—a jibarito before, they're always intrigued and give good feedback.

Can you substitute any ingredients?
We'd have no problem with that, but no one really bothers switching it up. It's good as is.

What pairs well with the jibarito?
We serve it with either yellow rice and pigeon peas or white rice and red beans. It's a filling meal. Most of our customers drink a Puerto Rican soda with it, like the Coco Rico, a coconut soda, or Malta India [a nonalcoholic malt beverage from Puerto Rico], straight out of the bottle. Puerto Ricans don't typically like to water it down with ice.

What makes the jibarito at Nellie's special?
It's always completely made to order. Some places might pre-fry the plantains, but we fry the plantains to order. Also, the garlic goes inside, not just on top, which helps absorb the flavor in the meat. The addition of sautéed peppers adds a little crunch and flavor as well.

Is there anything you wouldn't serve with a jibarito?
We wouldn't serve it with tostones, a Latin American dish of fried plantain slices. That would be too much plantains.
Photos by Andrew Nawrocki, Groupon

Check out more of the Guide's culinary coverage: