Miami Food Truck Frenzy
BY: Kimberly Moore |
Jan 30, 2013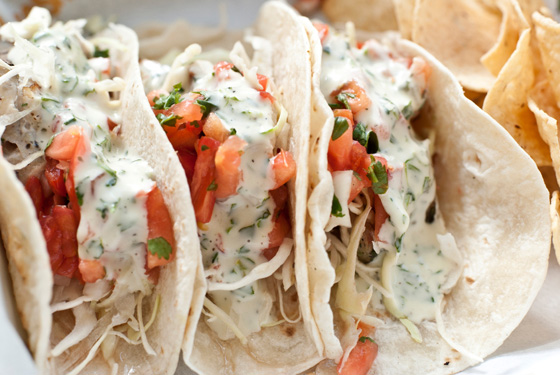 The Food Truck phenomenon has spread like wildfire across the country and Miami is no exception.  Just over a year ago, Miami had approximately 50 trucks on the road and now that number is approaching 100 or more.  Food Trucks roam the streets of Miami solo or roar into rallies from South Miami all the way up to Palm Beach County almost every day of the week.
Latin Burger
and
gastropod
were some of the first trucks on the road and the pioneers of the Food Truck frenzy in Miami.  BTTR - short for Biscayne Triangle Truck Round-Up - is the most longstanding Food Truck rally and began in 2009.  Every Tuesday night, you are sure to find 15-20 trucks in front of Johnson and Wales University, slinging their food for crowds. Everyone is sure to find something at BTTR to tickle their palate - how about a Bubble Tea from
Boba Station
?  My favorite is the lychee slushie with orange pearls - bursts of fruit and sweet that leave you craving just one more (technically, I had one more plus since I also had to sample the Papaya and the Black Milk Tea). The Bubble Tea is perfect to wash down a true eyes-roll-to-the-back-of-your-head favorite - the Grilled Blue and Bacon (crisp bacon with creamy blue cheese and green onion on sourdough bread).  This sandwich, along with several other signature snacks, come hot and melting off the grill of
Ms. Cheezious®
- may I recommend the Crabby Cheese Melt or the Swiss and Guava special? But you can't stop there.  Food truck rallies are not about stopping at one truck.  The siren song of
El Rincon del Coqui
 is calling you to come and sample a huge, flavorful Tripleta Sandwich, Puerto Rico's famous three meat sandwich. It comes complete with incredible sauce and crispy potato sticks. Bring friends - this is a monster, must-share sandwich. If fish tacos are your indulgence of choice, check out 
Purple People Eatery 
which has a crispy Miami Mahi taco topped with chipotle mayo and pineapple-jalapeno salsa.  Another option is 
Jefe's Original Fish Taco and Burgers
  - a quick bite and make sure you request some of the house hot sauce!
Porkalicious
has more bacon, pulled pork, marinated pork, grilled pork and chicharrones than any other truck I have seen.  They even have you covered with bacon ice cream for dessert! And if dessert is what you want, then dessert is what you get. For those that have the stomach for it, the Krispy Kreme shake and/or Nutella shake from
Big Kahuna
are the dessert waves to ride.  Donuts.  In a Shake.  Think about that.
Fireman Derek
has scrumptious sweets - chocolate flan, pie pops and award-winning Key lime pie.  Cupcakes may be more your style and
Clarabelle's Cupcakes
gives a great selection, including a Lavender Cupcake with Lavender icing!  Shaved ice may be the perfect solution to cool off as well but if you are looking for me, you can find me at the Bubble Tea truck … sampling.  Again. Other standup weekly food truck rallies include Young Circle in Hollywood on Mondays, BTTR on Tuesdays, and Bayfront on Wednesdays - Come hungry! For calendars and locations of the Miami Food Truck rallies - check out: 
South Florida Food Trucks
.