Restaurant Spotlight: Trade. Inventive, Seasonal, Delicious Cuisine in the Waterfront District
BY: Laura Chassaigne |
Mar 24, 2014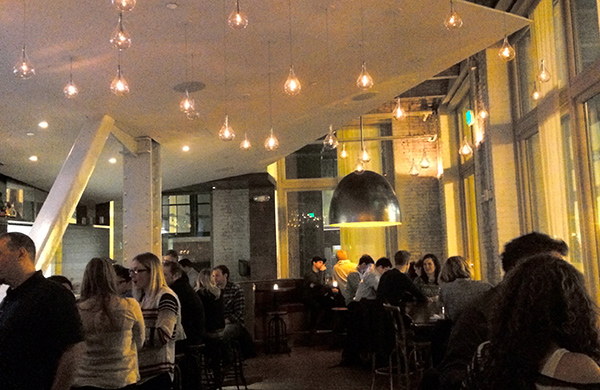 Trade, a restaurant from Chef Jody Adams of Rialto fame, is my one of my favorite restaurants in Boston, and a place I find myself again and again. Living in the Leather District, it is also luckily (and dangerously!) close to home, and when we get home to find the fridge bare we often take the short walk to Congress Street. Because we have tried the menu so many times, I'd like to share some of what I've found to be the best dishes on the menu.
The space, by Fort Point Channel at the intersection of Congress Street and Atlantic Avenue, is airy and industrial, with lots of warm wood and exposed brick. The long bar area is a favorite of the after-work crowd, and is often filled with people from downtown looking for a drink before heading home. And with good reason: the drinks are delicious, especially their gingery cockney mule.
As great as the bar scene is, it is so worthwhile to stay for dinner. The menu is served in the bar area as well as a more formal seating area at the front of the restaurant. While there are larger entrees on the menu (between $22 and $28), sharing the small plates ($7 to $15 each) is a delicious way to try several dishes. In line with the aim of using fresh local ingredients, the menu shifts with the seasons to feature the best produce available.
There is always a crudo, and it has been delicious every time I have tried it. One memorable version featured fluke in a delicate coconut broth. The current menu includes a tuna crudo with wasabi, radish, chilli, and yuzu – yum!
A perennial favorite of mine and a constant on the menu is the black bean enchilada with Taza mole, cabbage, and avocado. It is cooked in a small cast iron skillet in the huge pizza oven, which also crisps up several varieties of flatbreads. Another favorite is the crispy potatoes with paprika and cumin, simple but oh-so satisfying.
Vegetables really shine, including avocado served with an addictive green mango-tamarind-peanut chutney, Brussels sprouts with harissa and dukkah, and gingered beets in a grainy mustard vinagrette.
The menu often features burrata, a fresh cheese made from mozzarella and cream. A version we tried recently paired a zingy quince jam and toasted nuts with the rich cheese, for a perfect decadent forkful.
While there are several interesting deserts on the menu, we always come back to the baked Alaska. The flavor of ice cream or sorbet changes with the seasons, but the meringue shell is always crisped beautifully in the hot pizza oven. It has consistently been a perfect ending to some of my favorite meals in Boston. If you try Trade, I hope you enjoy it as much as I do.
BY: Laura Chassaigne
Laura highlights the people, events, and places that make Boston unique on The Boston Day Book. After spending her early years in Boston, Laura moved abroad and has lived in Montreal, London, and Paris. From the Leather District loft she shares with her husband, Laura enjoys (re)discovering the neighborhoods that make Boston great, strolling the waterfront, and exploring the city's museums. Laura is currently writing her PhD dissertation on Palaeolithic symbolic behavior, and recently graduated yoga teacher training at Kripalu.