The Ultimate Pike Place Market Dining Guide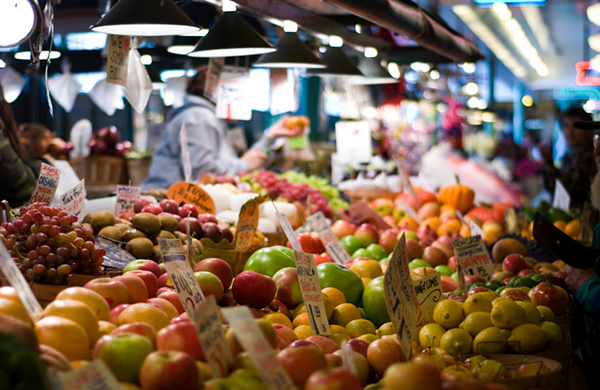 Seattle's most famous landmark is a buzzing hive of farmers and fish mongers, old world delis and nouveaux bars like
Rachel's Ginger Beer
, where craft cocktails show off the artisan brew. Throughout the rambling three blocks of the Pike Place Market, there's a world of flavors, dozens of cafes, bakeries, clam chowder shops, seafood counters and restaurants that showcase the diverse bounty of the Pacific Northwest. Tourists line up to have their photos snapped at the legendary Pike Place Starbucks, where the ubiquitous franchise got its start. This shop remains tied to that past, with bins of beans on display, harkening back to a time when today's most recognized name in coffee simply sold beans in bulk. On this same block, the savory scents wafting from
Bavarian Meats
draw customers in from the cobblestone streets. Thanks to recent expansion this European deli now serves full meals, which are a fine way to try before you buy, especially if you're in the mood for one of the succulent sausages the company has been producing for decades. Portable snacks are a perfect choice for making the most of a visit to this historic spot, and most every eatery offers quick takeout options.
DeLaurenti
, the delightful Italian deli, serves pizza by the slice, a wide selection of sandwiches and a mouthwatering assortment of antipasti items. Many folks grab one of Mr. D's well-seasoned gyros and head to the scenic Victor Steinbrueck Park, named for one of the Market's biggest boosters. The late architect led efforts to preserve the Market when there was talk of tearing it down in the 1970s. For a full-service dining experience, the Italian-inspired
Pink Door
is prized for its sun-dappled deck in the summer and its romantic dining room year-round.
Le Pichet
wins fans with its spot-on French bistro fare, which changes seasonally. And
Matt's in the Market
offers one of the best views of Elliott Bay and the majestic Olympic Mountains to the west. The market-driven menu focuses on infusing pristine seafood and locally raised meat with vivid regional flavors, and the kitchen takes pride in its creative presentation, so the meals match the memorable view. It would be a mistake to skip dessert, so venture into
The Confectional
for a bite-size cheesecake, try the macarons and other pretty pastries at Le Panier or grab a bag full of minis from Daily Dozen Doughnuts. If there's room, snag a cup of piping tea from the Perennial Tea Room to round out the Market-wide feast.