Turkey Poo Doesn't Belong on Pizza, and Other Thoughts on Toppings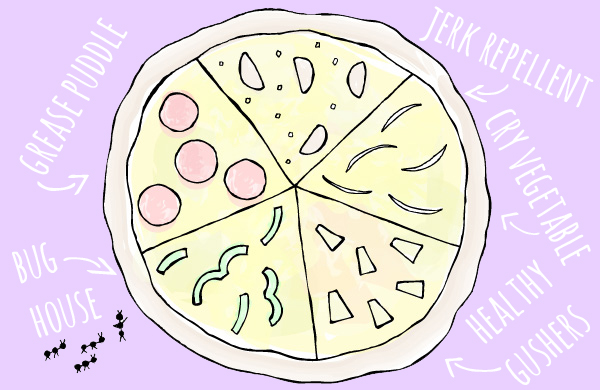 For four days in July, the The Guide got taken over. Not by the tiny, glowing aliens that live inside our
showerheads
, but by summer campers from nonprofit writing and tutoring center
826CHI
. Partnered with Groupon employees, the 22 budding scribes became The Guide reporters for the day, scribbling down their thoughts on everything from the song of the summer to Lady Gaga's out-there outfits. Their assignment for the Food & Drink section was simple: each kid picked a pizza topping and wrote an argument for or against its inclusion on an ideal pie. But from these humble beginnings came some truly compelling prose. We were blown away by the eloquence of campers' defenses of pineapple, pepperoni, and sausage, and the incisiveness of their scathing takedowns of jalapeño peppers and sriracha. (Spice, it turns out, is not that popular with the under-16 set.) Below are some delicious excerpts of their work.
Pineapple Keeps Pizza Interesting
By Lara Unnerstall & Isaiah Finklea (Grade 7)
When I'm about to eat pineapple pizza, I'm very excited. Pineapple is a great pizza topping because it's sweet. It's not like any other pizza topping; it's unique because there are no other common sweet pizza toppings. It contrasts with the other typical flavors. Sometimes it's sour, too, which also tastes good. The flavor varies, so it keeps the pizza interesting. The texture is good because it's like Gushers candy; when you bite into it the juice comes out. It smells good, too; it makes you think of Hawaii, which is a beautiful place. If you want a detailed, interesting pizza, put pineapple on it. It's a citrus fruit, and contains vitamins like vitamin C, so it's good for you, too.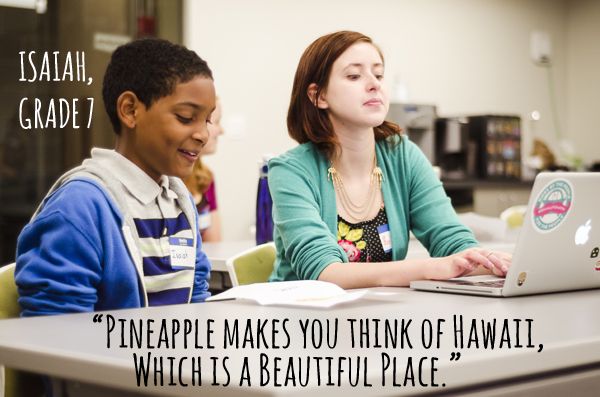 Garlic Helps Ward Off Your Enemies
By Jess Duff & Elizabeth Barrett (Grade 4)
Garlic is good because you can have bad breath after you eat it. You can ward off your enemies. I have many enemies. But the downside of the garlic breath is that you might have to ward off your friends, too, which would be kind of sad. But you could always warn them.
Pizza is Plain Without Sausage
By Christie Succop & Nathalia Gomez (Grade 7)
I feel like the pizza tastes plain without the sausage to go with it. When my dad takes the pizza out of the oven the first thing I smell is the sausages on the pizza. I started off not liking the sausage because I never tried it and judged it by the way it looked. Now that I am older and willing to try new foods I like the way the sausage tastes. I also like how sausages come in different varieties so you can try different ones until you find the one that you like. Sausage can be found in many places of the world so it can be available to everyone. Sausage can be eaten by itself or with other foods depending on what you prefer. For people who don't eat meat they do have vegetarian options out there. With all the different types of sausages out there, there will probably be one that you like.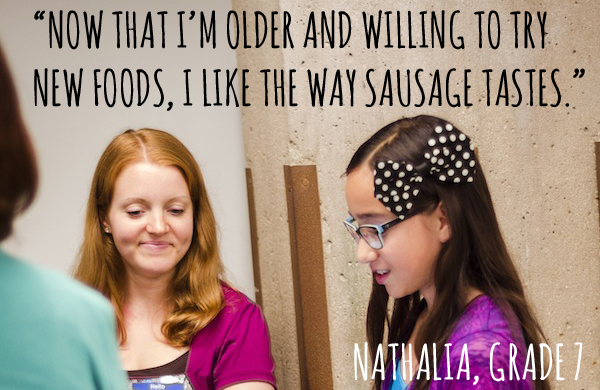 Onions Taste Weird
By Christie Succop & Diego Delira (Grade 2)
Onions make you cry when you peel them. They are round. They have skin. They feel weird in your hand. The skin is crusty. They smell weird. It tastes weird. It sounds crunchy. It's a plant. Onions are vegetables. There are different kinds. When it's growing, it gets hairy. Onions are grown in 20 states. The US grows 4.5% of the world's onions. US farmers plant 125,000 acres of onions each year.
Pepperoni is Yummy but Greasy
By Jess Duff & Elizabeth Barrett (Grade 4)
I like pepperoni because it's really yummy, but I don't like pepperoni, because it's too slimy and greasy. But the good part about it is you can dump the grease off and then you'll have very good, yummy pepperoni. It tastes a lot like bacon and smoked meats, which I like a lot. I don't like it when it's so greasy, that it makes a puddle of grease. It doesn't taste very good and is like oil, and it is unhealthy. [...] My dream pizza would have a graham-cracker crust, it would be Oreo-flavored, have Oreo sprinkles on top, and it would be from Giordano's, which is a very good pizza place. Their pepperoni is not very greasy at all, and there are no puddles.
Cheese is Very Versatile
By Catherine Bullard, Daniel Campos (Grade 8), and Zuri Yearwood (Grade 5)
Who wouldn't want cheese on their pizza? The stretchy-ness of cheese is like taffy and likeable, plus it's smooth and slippery in your mouth. It's a nice contrast to other ingredient textures because of its hot, chewy texture. Cheese is so versatile, because it goes well with every topping. There are too many to count. It even tastes good by itself. It is affordable because you do not have to spend extra money on your pizza. [Cheese] is one of the basic building blocks of a pizza, who wouldn't want that? It comes with many different flavors… If you aren't in the mood for toppings, you can have it by itself. We recommend deep-dish pizza because of the delicious cheese it contains and because it is very filling.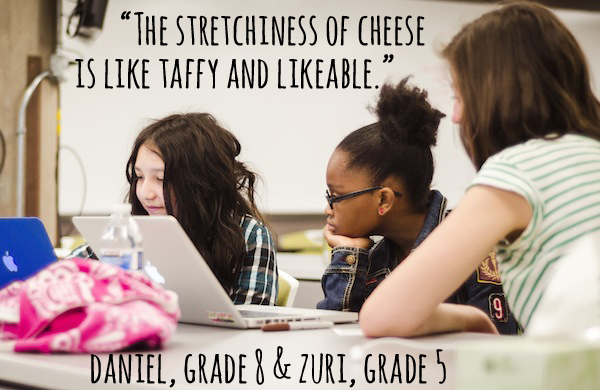 Green Peppers Ruin the Fun of Pizza
By Daphne Sidor & Sofia Delira (Grade 4)
A couple days ago my aunt made a pizza and she told me it only had cheese on it, but when I ate it I found a green pepper just on the pizza. I was like, "Oh, my god." It was already in my mouth. I didn't end up eating any more. Green pepper is not a good pizza ingredient for everybody because it is too spicy—it ruins the fun of pizza. When I order pizza, maybe I just want to have fun. Pepperoni is a fun ingredient: it's a little spicy, but not too spicy. Green pepper is not a good pizza topping for most kids. Adults are usually used to spicy things because they get used to having spicy things as they get older. Green pepper can also be gross—we found a picture of a green pepper with another pepper growing inside it. Green peppers could be good for things other than pizza: if you used a green pepper as a little house, a ladybug would fit inside or a couple of ants. You could also use different colors of bell pepper as traffic lights. But pizza is for sharing, and not that many people like green peppers.
Turkey Poo Doesn't Belong on Pizza
By Jess Duff & Elizabeth Barrett (Grade 4)
I also would not like spicy toppings on my pizza. My dad likes to put this spicy stuff that I call Turkey Poo on his Chinese food. It's actually sriracha sauce. I call it that because there's a rooster on the bottle that I thought was a turkey, and it looks like what a turkey might poo out.
Illustration by Jess Duff, Groupon; photos by Elisabeth Mikottis, Groupon.