Where to Eat Along the Freedom Trail
BY: Fiona Coxe |
Jul 2, 2014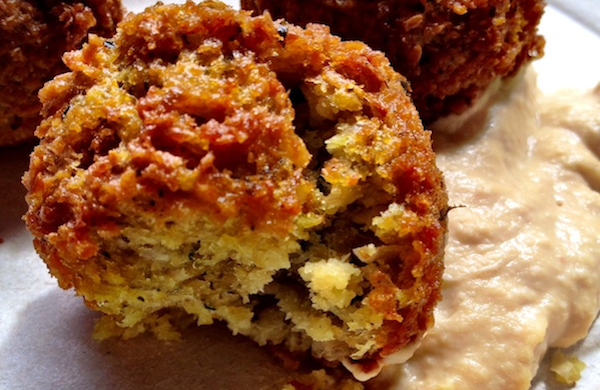 If you look at the ground in downtown Boston, chances are you might see a red line beneath your feet. This crimson path, famously known as the
Freedom Trail
, snakes from Boston Common up to the glinting dome of the State House, as many Bostonians already know. It travels past the Old South Meeting House, meanders through Faneuil Hall, and then winds through the North End, eventually leading over the bridge into Charlestown. Created in 1951, the Freedom Trail links all the city's major historical sites together and makes them easy to visit for residents and tourists alike. But you may
not
know that there are also some pretty darn delicious food spots along the way. Here are a few:
Fuel Up in Beacon Hill
While visitors tend to flock to the Faneuil Hall area for fast food, I'd urge you to break away from the crowds and check out
Piperi Mediterranean Grill
(1 Beacon St.), located across the street from King's Chapel and Burying Ground. Everything on the casual spot's menu—whether it's falafel, a full-on mezze plate, or a flavorful salad—is incredibly fresh, as the chefs make all of their dishes in small batches. The menu also accommodates vegetarian, gluten-free, and other diets, and the plates can be customized to fit your cravings. Ample portions and energy-boosting fare will definitely keep your spirits up for a full day of exploring.
Cool Down in the North End
For obvious reasons, the Freedom Trail is very popular in the summertime. Boston's summer temps can soar into an uncomfortable territory, which makes cooling off a necessity. In my mind, there is only one option when the heat is bearing down and refreshment is needed: gelato from
Caffe Paradiso
(255 Hanover St.). The trail will take you right past it, and it would probably be an offense to our forefathers if you didn't stop and have a taste of the gelato, especially my favorite flavor, pistachio. This sweet treat is sure to keep you cool through your journey.
Unwind with Wine in Charlestown
The best way to end a day on the Freedom Trail is dinner at the
Navy Yard Bistro and Wine Bar
(1 First Ave.). This little tucked-away gem offers incredible food, from appetizers such as buttermilk-fried oysters and duck wings to entrees like my personal favorite, a rum- and rosemary-brined pork chop so succulent and flavorful that you'll feel like you've gone to pork heaven. Beyond the food, however, there is an impressive wine list, which won acclaim from Wine Spectator. The list is a perfect combination of affordable and splurgy, with a glass or bottle for every taste and price point. The bistro is cozy and inviting, and with something for everyone, it's a delicious place to relax after a long walk through the city.
Check out more restaurants in Boston.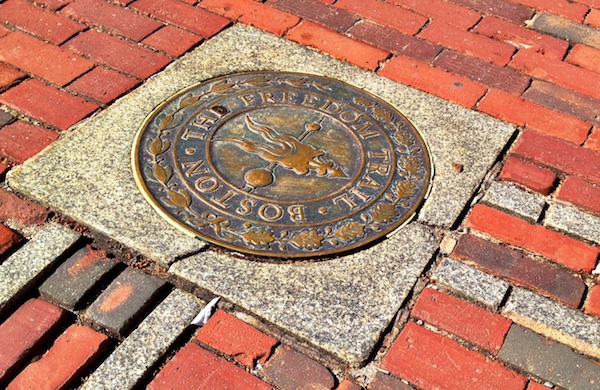 Photos by Fiona Coxe
BY: Fiona Coxe
Fiona is a free-lance food writer living in the city of Boston.  Born with an extreme love of food, she put her passion to paper in 2008 with the creation of her own blog, A Boston Food Diary.  It began as a way to keep track of her own kitchen adventures, and record her dining experiences in and around Boston.  Since its inception, A Boston Food Diary, showcasing its extreme love of both food and the city of Boston, has become a well-known resource for both the people of Boston and visitors to the city.  Fiona has also written for various publications around the city, as well as spot pieces for national publications.