Atlanta Dining Destinations for Healthy Eating
BY: Broderick Smylie |
Apr 8, 2014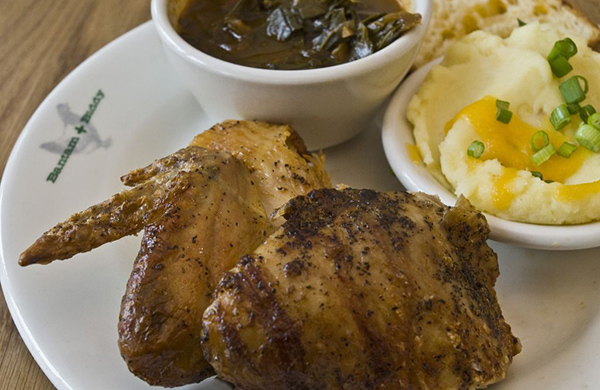 Living in Atlanta, with year-round farmer's markets and restaurants around the metro area highlighting the bountiful resources in the area, there's no excuse not to eat healthy. Whether you're fulfilling a New Year's resolution or just making an effort to eat healthier, check out these restaurants to get a delicious meal that you can feel great about.
Chicken is a great way to get some extra protein in a healthy diet, and the city's Bantam + Biddy restaurants in Midtown and Ansley Park go the extra mile by serving all-natural, pastured poultry products in their meals. Diners have a choice of house made sauces to pair with their rotisserie chicken, in addition to a constantly rotating selection of sides to complete the experience.  The spicy red piri piri sauce is a personal favorite. Don't miss the chopped pastured chicken liver and their selection of salads. Yes, even their salad dressings are made in-house. An Alpharetta location of Bantam + Biddy will join the pair of intown locations in the fall.
Atlantans may have become aware of chef Todd Ginsberg when his burgers hit the scene at Westside restaurant Bocado, but it's the Jewish inspired fare at The General Muir near Emory that's attracting rave reviews from national publications.  Save the sinful poutine with chopped pastrami for a cheat day and dive into the vegetarian reuben, a sandwich made with coriander rubbed smoked beets, sauerkraut, Russian dressing and gruyere.  Hungry eaters in search of the all-important Omega 3 properties of salmon can't go wrong with a salmon platter at breakfast, choose from salt cured nova or lox. Dinner options change often and if a seafood special is on the menu, be prepared for a treat.
A brewpub isn't typically on the list of go-to restaurants for healthy eats, but Wrecking Bar in Little 5 Points  is anything but typical. Chef Terry Koval, known for restaurant gigs around town, most recently made a name for himself with meat-centric fare at Farm Burger in Decatur. Koval has embraced vegan and vegetarian fare that pair well with the brewery's beers.  A variety of flavorful  dishes featuring tofu, seitan and produce direct from area farms are spotlighted every Tuesday at the brewpub's vegetarian nights.
When it comes to eating late at night, healthy options dwindle considerably.  Atlantans have come to appreciate the healthy cuisine available at R. Thomas Deluxe Grill in Buckhead for decades and count on them for having the same hours as the ubiquitous Waffle Houses, open 24 hours a day.  Breakfast is served at any time of the day and night with organic eggs. My personal favorite is Thai Express bowl made from quinoa and a variety of vegetables with their signature spicy peanut sauce and chicken. A vegetarian option is available as well. Southwestern dishes, salads, pasta and dessert round out an wide-ranging menu.
BY: Broderick Smylie
Broderick is an award-winning writer and photographer who loves delving into the food scene in Atlanta. He can be found at restaurants and food events around town, often with a camera in one hand and a tasty bite in the other. His popular blog Savory Exposure began in 2009 capturing images from a private tasting event and now documents the food and drink scene in Atlanta and beyond. Originally from Cleveland, Ohio, he's lived in the city for over 10 years and embraced the South and its food