Atlanta's Top 10 Romantic Restaurants
BY: Editors' Picks |
Jan 29, 2014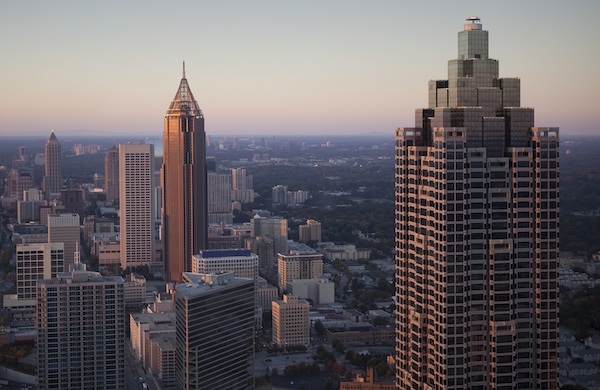 It's not that Atlanta's best date-night restaurants are lacking in the food department—the city's chefs make exquisite Italian, French, Persian, and Indian dishes. It's just that the eateries' romantic atmospheres do most of the work when it comes to setting the mood. Picturesque gardens inspire stolen kisses at La Grotta. An avant-garde chandelier and black-and-white decor ooze elegance at Aria. And the soft melodies emanating from the Chattahoochee River underscore quiet conversation at Canoe.
Multiple Locations: Italian Gardens
La Grotta
|
Multiple Locations
At La Grotta's two locations, breathtaking gardens serve as an enchanting backdrop for dates. In Buckhead, lush foliage rises from stone-lined flowerbeds in the courtyard, whereas at the Ravinia eatery, trickling waterfalls cut through the greenery. At both restaurants, chefs serve organic Italian fare—even custom dishes, if you call ahead.
Buckhead Village: Painstakingly Staged Dinners
Aria
|
490 E. Paces Ferry Rd. NE
Dinner at Aria is more than just another meal; it's the main event. Chefs spend all day preparing, often letting meats roast, simmer, or stew for hours. By the time guests gather under the avant-garde chandelier, chefs need only focus on putting the finishing touches on their expertly plated contemporary American fare.
Downtown: 360 Skyline View
Sun Dial Restaurant, Bar & View
|
210 Peachtree St. NW
Sun Dial Restaurant, Bar & View rotates throughout the day from its perch on the top floor of the Westin. That means guests get to see different pieces of Atlanta's skyline during the course of their meal, or they can head to the observatory for a 360-degree view.
North Atlanta: French Cuisine with Piano Accompaniment
Violette
|
2948 Clairmont Rd. NE
Coq au vin, roasted duck breast, and chocolate mousse are among the most popular French dishes at Violette. But it's not just the cuisine that makes it so romantic; the eatery resides in a secluded building 50 feet from the street, and hosts live piano music six times a week.
Vinings: Romance on the River
Canoe
|
4199 Paces Ferry Rd. NW
Set on the banks of the Chattahoochee River, Canoe's name couldn't be more fitting. Riverside gardens and walkways are perfect for a post-dinner stroll, while in the dining room, iron vines, animal sculptures, and a canoe-inspired ceiling bring the outdoors in. This warm, rustic setting complements the seasonal cuisine.
Buckhead: Sensual Surroundings
Tantra Restaurant and Bar
|
2285 Peachtree Rd. NE
Once a week, Tantra Restaurant and Bar hosts "Sultry Jazz Thursdays," when live musicians supply the mood music. But every night at Tantra could be considered sultry thanks to the risqué artwork on its walls and the spicy Persian and Indian cuisine served by its chefs.
Downtown Decatur: Practice Your French
Cafe Alsace
|
121 E. Ponce De Leon Ave.
Dinner here is the next best thing to a European vacation: every server speaks French, and the food—from pecan-stuffed chicken to sauerkraut with three sausages—exhibits the French and German influences of the restaurant's namesake region.
Sandy Springs: Where the River Meets the Sea
Ray's on the River
|
6700 Powers Ferry Rd. NW
Live Maine lobsters are flown in fresh every day to Ray's on the River, as is all of its certified-sustainable seafood. The fish has to be delicious to compete with Ray's other specialty: hearty Black Angus steaks, aged for a minimum of 21 days.
Midtown: European Wines
Ecco
|
40 7th St. NE
Rich, dark wood and leather give Ecco's dining room a laid-back feel. But peek inside the open kitchen and you'll see chefs bustling to prepare small plates of seasonal European cuisine such as cured meats and cheeses, wood-fired octopus, and salt-roasted beets. The dishes complement Ecco's rare European wines.
Poncey-Highland: Heat Up the Warehouse
Two Urban Licks
|
820 Ralph McGill Blvd. NE
Two Urban Licks was once a warehouse and the industrial vibe lingers on in the dining room's enormous rotating rotisserie. There's also an entire 26-foot wall devoted to 72 barrels of wine, which pour via a gravity-powered system.