GROUPON GUIDE TO WASHINGTON-DC
The Rules for Deep-Dish Pizza
BY: Aimee Algas Alker |
Sep 17, 2014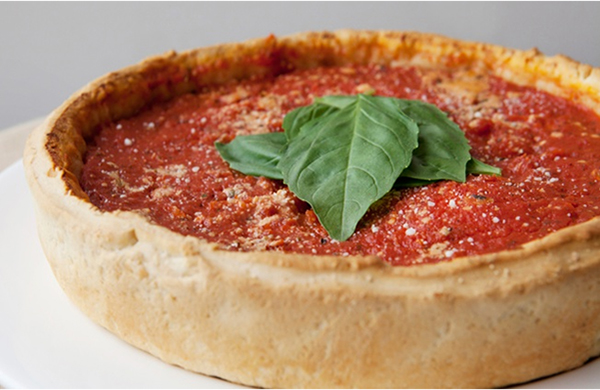 The sauce goes on top. That's the primary—and most obvious—rule for deep-dish
pizza
. But for an authentic and
delicious
specimen of this Windy City staple, a few more requirements must be met.

Here are seven key characteristics for any true deep-dish pizza:
Must put the pie in pizza pie.
The dough has got to be thick and deep and hearty. At its core, this crust must support a pizza pie layered with 2 inches of cheese and sauce and toppings. That being said, the crust must also have crunch and flavor. Some pizzerias add heft with cornmeal and/or butter.
Cheese should make up roughly one-third of the pizza.
Mozzarella slices, not shreds, create a thick stratum that keeps the crust from soaking up the sauce. When you pull a slice away from the pie, you should need the spatula to break through long threads of molten cheese.
The only acceptable topping is sausage.
The meat should lie in a layer, not in crumbles or little pellets. If you must skip the sausage, choose spinach.
And there should be just one topping.
Sausage
or
spinach—never both. Deep dish is messy enough as it is.
We should see chunks of tomatoes.
In a true deep-dish pizza, the sauce is on top of everything. And to stay in balance with the thickness of the crust and the layer of sausage, the sauce has to be thick as well. The tomatoes' natural sweet-tart balance should also come through, balanced by the slightly salty, mellow flavor of the cheese.
It's served while it's hot.
Please don't wait to let the pizza "rest." The cheese is best when it's oozing, stringy, melty, and gooey. As soon as it's on the safe side of scalding, wolf it down.
A knife and fork will not elicit laughter.
Using utensils keeps the toppings from sliding off. And you wouldn't eat a slice of an apple pie without a knife and fork, would you? Neither should you for a
true
pizza pie.
Check Groupon for deals on pizza in your city, or satisfy your craving for pizza coverage below: