GROUPON GUIDE TO WASHINGTON-DC
How to Spot an Authentic Po' Boy Sandwich Inside and Outside of New Orleans
BY: Kevin Moore |
Apr 6, 2015
The History
Labor disputes are known for their high tensions, not their cuisine. That was not the case with the New Orleans streetcar strike of 1929, best remembered for birthing the iconic po' boy sandwich.
The po' boy sandwich's origins are uncertain and largely drawn from legend, but Clovis and Benjamin Martin's story stands out from the rest.
Upon arriving in early 20th-century New Orleans, Clovis and Benjamin worked as streetcar conductors. The brothers left their jobs to open Martin Brothers' Coffee Stand and Restaurant in 1922, but they hadn't completely severed ties with their former union.
On July 1, 1929, after a period of especially contentious contract negotiations, the city's streetcar workers went on strike, leaving more than 1,000 people without work.
As a public display of support for their former union, the Martins promised free meals for striking workers. Each meal was an inexpensive but hearty sandwich made with french bread, gravy, and whatever scraps of potatoes or roast beef the cooks could find. According to the legend, staff members would spot a cash-strapped union member and signal the kitchen by shouting, "Here comes another poor boy!"
But time has changed, and so has the legendary sandwich. Preparations vary widely from restaurant to restaurant—roast beef and gravy can be replaced with seafood, smoked sausage, or even alligator.
The Setup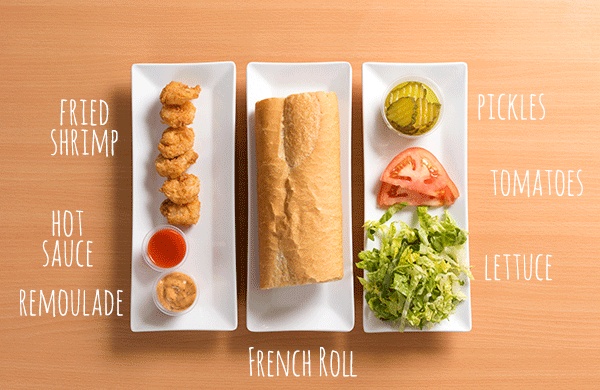 Spread hot sauce and rémoulade on the french roll's top slice before adding the lettuce, pickles, and tomato. Pile as many fried shrimp as possible on the bottom slice, then combine the two.
The Expert
In the Crescent City alone, diners have plenty po' boy options. Johnny's Po-Boys embraces variety (the menu features more than 40 sandwiches), while R & O's focuses on tradition, creating what some have called the New Orleans metro area's best roast-beef po' boy.
But if you're not in New Orleans, you can still find legit po' boys at outposts across the country. One such spot is Lafayette at the Chicago French Market, where cofounder and Baton Rouge native Chef Sahil Singh prepares a menu of creole and Cajun cuisine, including New Orleans–style po' boys. He talked to us about his state's iconic sandwich and made us his version, convincing us that his heart—and fork—are firmly entrenched in the South.
What is the one ingredient an authentic po' boy must use?
Actually, the properly "dressed" po' boy has to have lettuce, tomato, pickles, and either mayo or rémoulade sauce, depending on the protein.

What pairs well with a po' boy?
It's always with fries or chips. The sandwich is a meal by itself, but Zapp's Potato Chips seem to be the local go-to.

What ingredients are off limits in a po' boy?
I honestly believe a tradition is more a guideline. Louisiana—and the country—is such a melting pot of cultures and cuisines, so more exotic and native ingredients and tastes are being discovered by the general masses. I think the majority are now willing to have just about anything as long as it tastes good.

What's the most unusual po' boy you've heard about or tried?
It's not that unusual to find nutria ... po' boys around the bayou, but I've never had those. The most unusual po' boy I've tried would probably be alligator, which isn't that unusual down South.

What makes the po' boy at Lafayette special?
Everything is made from scratch and is as fresh as possible. The bread is delivered daily from D'Amato's Bakery. All meats are brined, seasoned, and roasted in house, and all produce is cut fresh daily.
Photos by Andrew Nawrocki, Groupon

Take a bite out of other classic sandwiches: